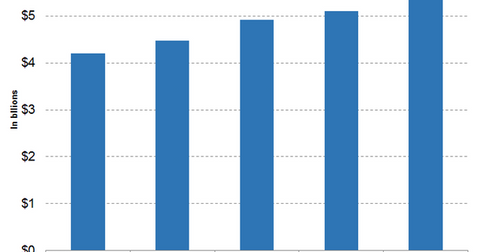 Agilent Technologies Reduces Its Fiscal 2019 Revenue Guidance
By Margaret Patrick

Updated
Revenue guidance
In its second-quarter investor presentation, Agilent Technologies (A) reduced its fiscal 2019 revenue guidance from 5.15 billion–$5.19 billion to $5.085 billion–$5.125 billion, implying 4.0%–4.8% YoY (year-over-year) core revenue growth instead of 5.0%–5.5%. The company increased its currency exchange impact estimate from 180 basis points to 210 basis points and reduced its forecast M&A (merger and acquisition) boost from 160–190 basis points to 160 basis points.
Article continues below advertisement
Agilent has reduced its core revenue growth guidance based on weaker estimates for its LSAG (Life Sciences & Applied Markets Group) revenue in the second half of fiscal 2019. However, the company has maintained its fiscal 2019 ACG (Agilent Cross Lab Group) and DGG (Diagnostics and Genomics Group) revenue forecasts.
Agilent expects its core revenue to grow 2.7%–4.1% YoY to $1.225 billion–$1.245 billion in the third quarter of fiscal 2019. The company estimates M&A to boost revenue by 120–150 basis points in the third quarter, and foreign exchange to impact it by 210 basis points.
Wall Street estimates
Analysts expect Agilent's revenue to rise 3.89% YoY to $5.11 billion in fiscal 2019, 6.33% YoY to $5.43 billion in fiscal 2020, and 6.24% YoY to $5.77 billion in fiscal 2021. In fiscal 2019, they expect Agilent's revenue to rise 2.94% YoY to $1.24 billion in the third quarter, and 3.92% YoY to $1.34 billion in the fourth quarter.