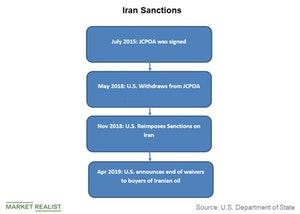 Why the US Imposed Sanctions on Iran and Why They Matter
US sanctions on Iran
The United States first imposed restrictions on its activities with Iran in 1979, after the seizure of the US embassy in Tehran. The United States has since then imposed various sanctions on Iran for reasons, including curbing the development of nuclear weapons, ballistic missiles, and terrorist activities. The sanctions against Iran were lifted in 2015 after the JCPOA (Joint Comprehensive Plan of Action) deal under which Iran agreed to limit its nuclear activities.
Article continues below advertisement
Article continues below advertisement
Withdrawal from JCPOA
However, in May 2018, the United States withdrew from JCPOA. According to a statement from President Donald Trump, JCPOA was a "horrible, one-sided deal, failed to achieve the fundamental objective of blocking all paths to an Iranian nuclear bomb, and it threw a lifeline of cash to a murderous dictatorship that has continued to spread bloodshed, violence, and chaos."
Sanctions on Iran
In November 2018, the US government re-imposed sanctions on Iran. "Today's sanctions, in conjunction with economic, diplomatic, and other strategic initiatives, are part of the U.S. government's long-term maximum pressure campaign to counter the Iranian regime's influence and destabilizing regional activities, to deny it the funds it uses to bankroll terrorist and militant proxies, and to secure the removal of all Iranian forces from Syria," noted the related press release.
End of waivers
The United States granted waivers to eight countries—China, India, Japan, South Korea, Taiwan, Turkey, Italy, and Greece—to import Iranian oil after the sanctions. On April 22, the government announced that it will not renew the waivers. Countries buying oil from Iran after May 1 may face US sanctions. Brent and WTI (West Texas Intermediate) crude oil prices (USO) surged after the announcement. Anadarko Petroleum (APC), Pioneer Natural Resources Company (PXD), and Hess (HES) are among the oil exploration and production companies affected by crude oil prices.