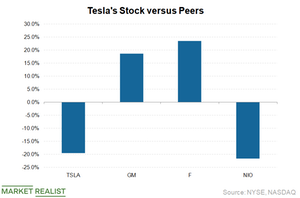 Why David Einhorn Believes Tesla Is on the Brink
By Anuradha Garg

Dec. 4 2020, Updated 10:53 a.m. ET
Tesla's underperformance
Tesla (TSLA) stock has underperformed markets this year. While Tesla stock has fallen 19.6%, the S&P 500 (SPY) and NASDAQ Composite (QQQ) have gained 16.1% and 20.5%, respectively.
Article continues below advertisement
Several factors have contributed to Tesla's weak stock performance. In the first quarter, the company's production (XLY) fell 30.7% sequentially to 63,000 units, and its Model S deliveries of 50,900 units missed analysts' estimate of 58,900. Elon Musk's tweets have continued to concern the Securities and Exchange Commission. These factors have prompted Wedbush Securities, Cowen, Canaccord Genuity, and JPMorgan Chase to cut their target prices for Tesla or downgrade it.
Einhorn: Tesla on the brink
As we've discussed, David Einhorn, who runs Greenlight Capital (GLRE), has criticized Tesla on several fronts. In addition to discussing Tesla's recent safety concerns, he addressed its operating performance. He stated that if Q1 is any indication, the total annual demand for Tesla's Model 3 is actually about 200,000 vehicles, much lower than Musk's estimate of 500,000–700,000 units. Einhorn believes the availability of a cheaper Model 3 and emerging competition from Jaguar, Audi, Kia (KRW), and Hyundai have impacted demand for Tesla's Model S and Model X.
Einhorn also ramped up his criticism of Musk, saying that he "never admits the crisis in real time. We believe that right here, right now, the company appears to again be on the brink." Einhorn cited lack of demand, price cutting, layoffs, and capex cuts as some factors putting Tesla on the edge.
Greenlight's short Tesla bet