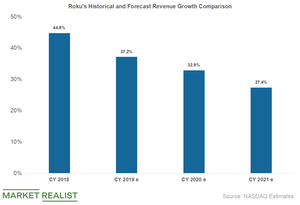 What Will Drive Revenue Growth for Roku in 2019 and Beyond?
Roku operating in a high-growth segment
The cord-cutting phenomenon has resulted in exponential growth for streaming media players such as Netflix (NFLX) and Amazon (AMZN). Though Roku (ROKU) doesn't produce original content, it's a streaming platform for televisions.
Roku's Player business segment accounts for sales from online media players as well as direct customers through its website. The Platform segment generates sales through advertiser and publisher fees.
Roku, though, faces competition from tech giants Apple and Amazon. Earlier this month, Apple launched its TV and TV+ applications while Amazon has reportedly been looking to expand into this space. Amazon's Firestick and Apple TV are direct competitors with Roku.
Article continues below advertisement
Over $1 billion in sales expected for Roku
Roku is slated to post sales of over a billion dollars in 2019 for the first time, which suggests sales growth of 37% year-over-year. Smart TVs are showing a trend for licensed operating systems, like smartphones. Roku has claimed that its OS is already a market leader as it's user-friendly, powerful, and built for the TV ecosystem.
The TV advertising market has been valued at $70 billion and is in its early stages on transitioning to streaming. Roku's OS has inbuilt features for advertisers, and independent research has shown that the company's TV ads are more effective than traditional ads.
Roku's sales are expected to grow 33% to $1.35 billion in 2020 and 27.4% to $1.72 billion in 2021.
Important user metrics
Roku experienced strong demand for players and TVs in Q4 and ended last year with 27.1 million active accounts. Roku's scale has been rapidly expanding over the years. It added approximately six million accounts in 2017 and 8 million accounts in 2018. User engagement is growing on its platform as streaming hours rose to 24 billion last year, up from 15 billion in 2017.
In fact, Roku users have streamed more in the last 18 months than in the prior nine years combined. In 2015, Roku has 9 million active accounts and a platform business valued at $50 million or $6 average revenue per user or ARPU. These figures have risen to 27 million accounts with a platform business of $417 million and ARPU of $18.