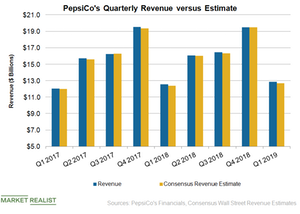 PepsiCo's Frito-Lay North America Segment Continues to Impress
By Sirisha Bhogaraju

Updated
Snack food business is a key growth driver
PepsiCo (PEP) reported impressive first-quarter earnings results today. The company's revenue rose 2.6% on a reported basis to $12.88 billion in the quarter. Its organic revenue growth was 5.2%. Its top line growth was driven by a 1% improvement in volumes and a 4.5% favorable pricing impact.
The company's Frito-Lay North America segment continued its growth streak in the first quarter. The segment's revenue rose 5.5% to $3.82 billion on a reported basis driven by higher volumes of Doritos, Ruffles, and variety packs and partially offset by lower volumes of Santitas. The segment also benefited from higher net pricing. The Frito-Lay North America segment is PepsiCo's second-largest segment in terms of revenue, but it contributes the highest operating profit for the company.
Article continues below advertisement
Performance of Beverages North America segment
An improvement in the revenue of the Beverages North America segment also boosted PepsiCo's top line growth. The segment's revenue rose 2.2% to $4.51 billion in the first quarter driven by higher effective net pricing and partially offset by lower volumes. The segment's overall volumes fell 2% as a 1% rise in noncarbonated beverage volumes driven by its water portfolio was offset by a 4% fall in its carbonated soft drink volumes.
The segment's operating profit increased just 0.3% to $389 million in the quarter driven by higher revenue and productivity savings. However, increased commodity costs and a rise in advertising and marketing expenses weighed on the segment's operating profit.
Overall, PepsiCo's adjusted EPS rose 1.0% to $0.97 in the first quarter, higher than analysts' consensus estimate of $0.92.