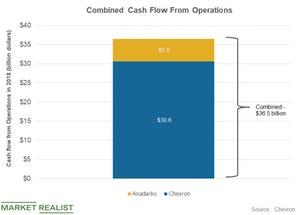 How Will the Anadarko Acquisition Benefit Chevron?
Anadarko acquisition
Chevron (CVX) has agreed to acquire Anadarko (APC) in a cash and equity deal. The transaction is expected to close in H2 2019, subject to requisite approvals. Let's look at the benefits of the acquisition for the company.
Article continues below advertisement
Article continues below advertisement
Enhance upstream asset base
Chevron has a robust upstream portfolio and has ramped up volumes in its vital regions of Gorgon, Wheatstone, and Permian. The Anadarko acquisition would bring Delaware Basin acreage, DJ Basin assets, and a complementary Gulf of Mexico position. The company could leverage its infrastructure to achieve operational efficiency in the Delaware Basin. Further, the DJ Basin would add established infrastructure and resources with low royalties. The Gulf of Mexico asset base could create tie-back opportunities, higher cash margin, and operational synergies for the company. Plus, the acquisition would also add the Mozambique LNG resource base.
Expand midstream network
The acquisition will add midstream assets from Western Midstream Partners (WES) to Chevron. The assets are well suited for the company's combined upstream portfolio. The company will be able to leverage these assets to generate operational efficiency and synergies.
Article continues below advertisement
Enhance financial strength and shareholder returns
The acquisition is anticipated to be accretive to the company after one year of closing at a Brent oil price level of $60 per barrel. If Anadarko had been part of Chevron in 2018, then its cash flows from operations would have stood at $36.5 billion. Chevron's actual cash flows from operations stood at $30.6 billion in 2018.
The company plans to divest about $15 billion to $20 billion of assets in 2020-2022. The proceeds are expected to be used to reduce debt and enhance share buybacks to about $5 billion per year.
Overall
Chevron's acquisition of Anadarko will create a fine-tuned upstream portfolio and a huge midstream asset base, which will likely strengthen the company's earnings and cash flows in the years to come.