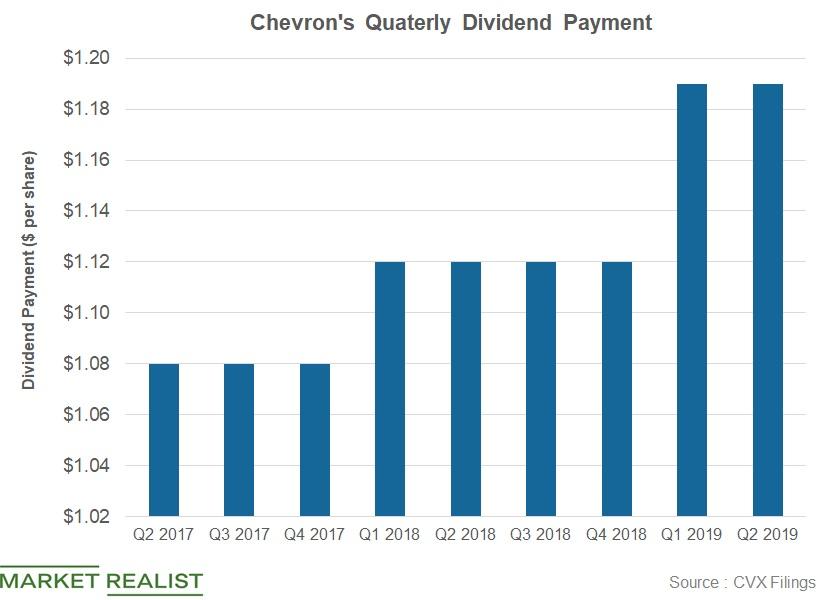 How Will Chevon's Dividend Payment Trend in Q2?
Chevron's shareholder returns
Chevron (CVX) released its first-quarter earnings on April 26. The company paid $2.2 billion in dividends in the first quarter. In the first quarter of 2018, the company paid dividends of $2.1 billion.
Chevron distributes higher earnings and cash flows to its shareholders through its share repurchase program. The program aims to buy back ~$3 billion shares every year. Strong cash flows backed by record upstream volumes supported the share buyback program in the past several quarters. In the first quarter, Chevron bought back $0.5 billion worth of shares.
Article continues below advertisement
Chevron's dividend payment
Chevron's dividend payments have increased in the past few years. The company is expected to pay stable dividends sequentially in the second quarter. In the second quarter, Chevron will pay a dividend of $1.19 per share on June 10. The dividend was announced on April 24. Chevron's second-quarter dividend payment represents 10% growth over the dividend paid in the second quarter of 2017.
Chevron's dividend yield compared to peers
Chevron's dividend yield is 4.0%. Suncor Energy (SU) has a relatively lower yield at 3.8%. However, other integrated energy companies have higher yields.
ExxonMobil (XOM), Equinor (EQNR), and PetroChina's (PTR) yields are 4.3%, 4.1%, and 4.1%, respectively. The stocks with higher yields include Royal Dutch Shell (RDS.A), BP (BP), and ENI (E). Their yields are 5.9%, 5.6%, and 5.5%, respectively.