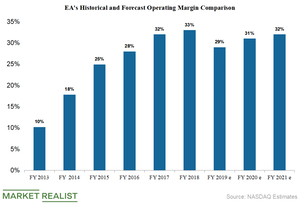 Electronic Arts: What to Expect from the Earnings Growth
By Adam Rogers

Apr. 24 2019, Published 1:14 p.m. ET
Gross profit margin
The shift to digital gaming has driven the profit margins higher for Electronic Arts (EA) and its peers over the last few years. Electronic Arts' gross margin has risen from 68.3% in fiscal 2015 to 69.2% in 2016, 73.2% in 2017, and 75.2% in 2018.
Electronic Arts expects a gross margin of 73.1% in fiscal 2019. The company's operating margin has improved from 10.2% in fiscal 2013 to over 33% in 2018. According to analysts, Electronic Arts' operating margin might be 29.2% in 2019, 30.9% in 2020, and 32.4% in 2021.
Article continues below advertisement
Electronic Arts' EPS
Analysts expect Electronic Arts' sales to fall 7.8% in fiscal 2019. The company's non-GAAP (generally accepted accounting principles) EPS will likely fall 11.5% to $3.91. Analysts expect the company's EPS to rise 13% to $4.42 in 2020 compared to its sales growth of over 1%.
Analysts expect Electronic Arts' EPS to rise at a CAGR (compound annual growth rate) of 10% over the next five years, which is below the CAGR of 12% in its EPS in the last five years. The five-year EPS CAGR for Activision Blizzard (ATVI), Take-Two Interactive (TTWO), and Zynga (ZNGA) are 7.3%, 21.3%, and 30%, respectively.