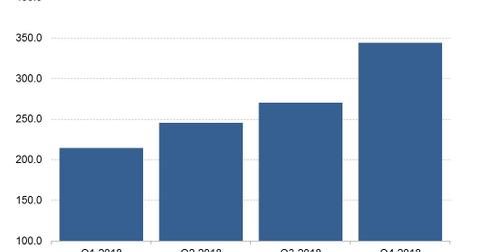 Can Shopify Survive Microsoft's and Square's Attacks?
By Ruchi Gupta

Updated
Microsoft is eyeing Shopify's market
Shopify (SHOP) powers the digital stores of hundreds of thousands of merchants. Some 800,000 businesses operate stores on Shopify's platform, a number that's been rising steadily. Shopify has been one of the fastest-growing major e-commerce companies. It recorded revenue growth of 54.3% YoY (year-over-year) in the fourth quarter, outpacing revenue rises of 47% YoY at Etsy (ETSY), 41% YoY at Alibaba (BABA), and 20% YoY at Amazon (AMZN). But Shopify's rapid ascent could soon run into a huge obstacle.
Microsoft (MSFT) is considering taking on Shopify in the business of operating a platform on which merchants can set up digital shops to sell to online shoppers, according to a report from The Information.
Article continues below advertisement
Square helping businesses set up digital stores
On its part, Square (SQ) has begun applying the technology it acquired through its purchase of Weebly, thereby creating more competition for Shopify. For example, Square now provides tools that businesses can use to set up retail websites. Square also competes with Shopify in the business of extending small business loans to merchants. Shopify's small business lending arm, known as Shopify Capital, extended $71.8 million in small business credits in the fourth quarter. Square provided $472 million worth of small business loans in the same period.
Shopify wants to dominate the marijuana vendor world
But Shopify isn't defenseless, even as its market heats up. The company has built a name for itself in terms of online legal marijuana products, and it wants to build on this strength as more countries legalize marijuana and the market expands.
Shopify generated revenue of $344 million in the fourth quarter, up from $223 million a year ago.