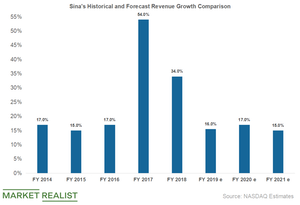 A Look at Sina's Valuation Multiples
By Adam Rogers

Updated
Is Sina stock overvalued?
Sina's (SINA) forward PE multiple is 14.9x, and its EPS are expected to rise 9.8% this year. Whereas the stock might look overvalued at this multiple, Sina's expected EPS growth of 26% in 2020 and five-year compound annual growth rate of 21.3% could drive the stock higher over the next few years.
Some Sina investors may be concerned about its slowing revenue growth. Sina's sales rose 17% in 2014, 15% in 2015, 17% in 2016, 54% in 2017, and 34% in 2018. Analysts expect its sales to grow by 15.5% in 2019, 17% in 2020, and 15% in 2021. Though Sina is growing by double digits, it is growing much slower than it did between 2016 and 2018. Sina's advertising sales rose 14% to $484 million in the fourth quarter of 2018, while its portal ad sales fell 29%.
Article continues below advertisement
Market cap-to-sales multiples
Sina has a market cap-to-sales multiple of 1.85x, which might seem low considering its revenue growth. Baidu (BIDU) has a similar revenue growth estimate of 16.5%, and its market cap-to-sales multiple is 3.3x. Analysts expect Baidu's EPS to fall 16.6% this year.
JD.com (JD) also has a low market cap-to-sales multiple, of 0.52x. As its EPS are expected to expand by 65.7% this year, its forward PE multiple of 31.77x makes the stock look undervalued at its current price. Alibaba (BABA), with market cap-to-sales and forward PE multiples of 8.71x and 28x and expected EPS growth of 15.2% this year, looks overvalued.