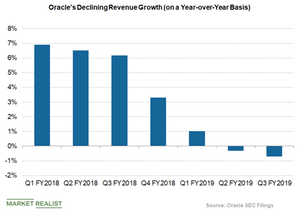 Why Oracle's Revenue Growth Is Getting Sluggish
Oracle's weak revenue growth
Software giant Oracle (ORCL) topped revenue expectations of nearly $9.62 billion by 0.3% in the third quarter of fiscal 2019. While revenues declined 0.7% YoY in the quarter, revenues were 3% higher on a constant currency basis. In comparison, Oracle's peer Microsoft (MSFT) reported lower-than-expected revenue in its second quarter of fiscal 2019 results. IBM (IBM) and Symantec (SYMC), however, topped the revenue estimates in their respective quarters.
Article continues below advertisement
Article continues below advertisement
Drivers denting revenue growth
During the third quarter, Oracle's "cloud license and on-premises license" revenue of $1.25 billion topped Wall Street estimates but was down by 4% YoY, as new customers reportedly wanted the company to move their existing software to Oracle's cloud without signing a contract. However, the segment remained flat on a constant currency basis.
Oracle's largest business segment, its Cloud Services and License Support segment posted revenue growth of 1% YoY to $6.66 billion, beating analysts' expectations of $6.64 billion. On a constant currency basis, the segment's revenue grew 4% YoY. Though Oracle made a late entry in the fast-growing cloud computing business, Oracle is aggressively making efforts to expand its cloud-based software services, as many companies are shifting to cloud computing from the traditional on-premise database model to cut costs.
Notably, Oracle co-founder Larry Ellison said that the "university researchers" had switched to Oracle from Amazon's (AMZN) cloud provider Amazon Web Services to save on opportunity costs. The company has also moved its existing customers such as AT&T (T) to its cloud services.
However, established software companies such as Workday (WDAY) are aggressively expanding their cloud business in comparison to Oracle. Workday expects its cloud subscription revenue to grow 27% to 28% in fiscal 2020, which ended in January 2020.
Oracle's hardware revenue fell 8% YoY to $915 million, and the company's Services revenue, which doesn't include cloud services and software support revenue, also declined 1% YoY to $786 million during the quarter.