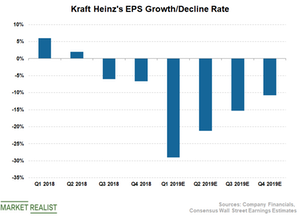 Why Kraft Heinz's EPS Could See a Double-Digit Decline in 2019
Factors to hurt EPS
Kraft Heinz's (KHC) bottom line has remained under pressure in the past two quarters and disappointed investors. Kraft Heinz's bottom line decreased by 6.0% in the third quarter of 2018. Meanwhile, it fell by 6.7% in the fourth quarter. We expect KHC's earnings to continue to decline in 2019.
We expect Kraft Heinz's bottom line to decline by a high double-digit rate, especially in the first three quarters of 2019, reflecting lower EBITDA. Kraft Heinz's EBITDA is expected to decrease in the coming quarters, as lower net price realization, a decrease in shipment volumes, and an increase in the manufacturing and logistics costs are expected to remain a drag. Also, adverse currency rates are expected to hurt EBITDA, and in turn, EPS.
Article continues below advertisement
Moreover, promotional spending and higher interest expenses could further drag earnings down. In comparison, the bottom line of General Mills (GIS), J.M. Smucker (SJM), Campbell Soup (CPB), Conagra Brands (CAG), and Kellogg (K) are also expected to take a hit from an increase in raw material and logistics costs. Also, higher interest expenses are anticipated to hurt EPS.
What analysts project
Analysts expect Kraft Heinz's EPS to decline by about 29% in the first quarter of 2019. Meanwhile, earnings are projected to decrease by ~21% in the second quarter. Analysts expect Kraft Heinz's EPS to continue to mark a double-digit decline in its EPS in the second half of 2019. However, the rate of decline is likely to decelerate sequentially.