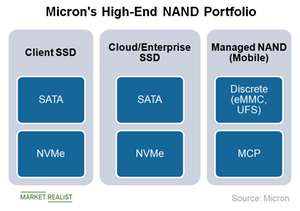 What's Micron's Strategy for Its NAND Portfolio?
By Puja Tayal

Updated
Micron's NAND strategy
Micron Technology's (MU) core business is DRAM (dynamic random-access memory). The company also offers NAND (negative-AND), which is a storage technology and isn't an essential component when it comes to improving performance. NAND demand is sensitive to price—when prices rise, demand falls.
As we enter the data economy, in which every nearly device generates data, the need for storage is increasing, thereby increasing the demand for high-capacity NAND flash solutions across data center, PC, mobile, and consumer devices.
Two years ago, Micron's NAND business consisted of commodity NAND products with low margins. Its NAND earnings almost collapsed in an oversupply situation as prices fell to close to cost. In mid-2017, NAND chip maker SanDisk's founder, Sanjay Mehrotra, and his team took the helm at Micron after selling SanDisk to Western Digital (WDC). Micron's new management shifted the focus of the company's NAND business to higher-value solutions.
Micron's NAND portfolio
At the J.P. Morgan 17th Annual Tech/Auto Forum Conference, Micron's chief business officer, Sumit Sadana, stated that the shift to higher-value NAND solutions had divided Micron's NAND portfolio into two segments: SSDs (solid-state drive) and managed NAND.
In the SSD segment, Micron is focusing on SATA (Serial Advanced Technology Attachment) and NVMe (nonvolatile memory) for clients and enterprises. Micron is a market leader in SATA enterprise SSDs, but its market share will likely take a hit in 2019 as it transitions to NVMe. It has already launched NVMe consumer SSDs and 1 TB automotive NVMe SSDs. It will launch enterprise and cloud NVMe SSDs throughout 2019 and will likely start gaining market share in 2020.
In terms of managed NAND, Micron offers eMMC (embedded Multi-Media Controller), UFS (universal flash storage), and MCP (multichip package) solutions for mobile phones. In the first quarter of fiscal 2019, Micron earned more than 50% of its NAND revenue from high-value NAND solutions, with its UFS revenue nearly tripling sequentially.
Micron and Western Digital are ready to launch a 1 TB microSD card for smartphones, drones, and action cameras. Next, we'll see how Micron's NAND portfolio is helping it tackle NAND cyclicality.