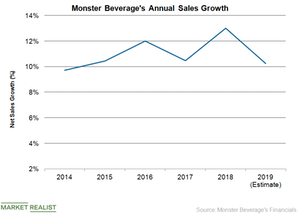 What Analysts Expect from Monster Beverage's Sales in 2019
By Sirisha Bhogaraju

Mar. 20 2019, Updated 4:08 p.m. ET
Performance in 2018
Monster Beverage's (MNST) net sales grew 13.0% to $3.81 billion in 2018, mainly due to the performance of its Monster Energy Drinks segment. The segment's net sales increased 14.8% to $3.50 billion driven by increased volumes of Monster Energy brand drinks in the domestic and international markets.
Monster Beverage's overall sales growth in 2018 was adversely affected by a 4.7% fall in the sales of the Strategic Brands segment to $285.8 million. This segment consists of energy drink brands the company acquired from the Coca-Cola Company (KO). The net sales of the company's Other segment increased 6.1% to $22.9 million in 2018.
Article continues below advertisement
Monster Beverage's net sales from international markets grew ~20% to $1.09 billion and accounted for 29% of its overall net sales in 2018 compared to 27% in 2017. Monster Beverage's EPS rose 23.9% to $1.76 driven by lower taxes and the impact of a lower average share count as a result of share repurchases. The company's adjusted EPS rose 29.5% to $1.80 in 2018.
Growth expectations
Analysts expect Monster Beverage's net sales to grow 10.2% to $4.20 billion in 2019. This growth rate reflects a potential slowdown from the 13% sales growth the company saw in 2018. Certain analysts have downgraded Monster Beverage's rating due to concerns about the company's US sales and rising competition from energy drink brands such as Bang. The shift in consumer preferences toward healthier drinks is also expected to affect Monster's sales.
Article continues below advertisement
Monster Beverage's adjusted EPS are expected to rise 13.3% to $2.04 in 2019. The company will continue to align its distribution network with Coca-Cola's bottlers and strengthen its position internationally by leveraging Coca-Cola's extensive distribution network. Monster also aims to boost its sales through continued innovation. Its new products include Monster Energy Ultra Paradise, the Monster Dragon Tea line, and Java Monster Swiss Chocolate.
Monster Beverage's gross margin contracted to 60.3% in 2018 from 63.5% in 2017. The company's operating margin contracted to 33.7% in 2018 from 35.6% in 2017. Its margins were adversely affected by higher input costs and freight, an unfavorable geographical sales mix, and higher payroll expenses in the year. Its 2019 profitability could come under pressure due to higher costs, though it raised the price of certain drinks in November last year to mitigate the impact of higher costs to some extent.