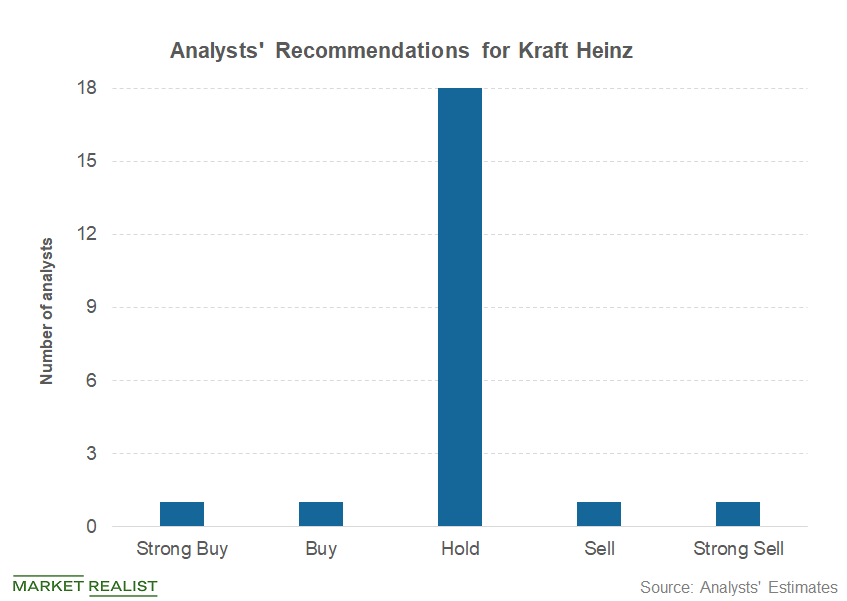 Warren Buffett Isn't Exiting Kraft Heinz
By Mohit Oberoi, CFA

Mar. 7 2019, Published 11:22 a.m. ET
Kraft Heinz
Berkshire Hathaway (BRK-B) is Kraft Heinz's (KHC) biggest shareholder. Berkshire Hathaway also holds Coca-Cola (KO) in its portfolio. Kraft Heinz fell sharply last month after its earnings miss and massive asset writedown. The company also revealed a subpoena that it received in October. Warren Buffett, Berkshire Hathaway's chairman, has received some criticism about Kraft Heinz.
Jim Cramer said that Buffett is "satisfied" with stocks like Wells Fargo (WFC) and Coca-Cola, while he's somewhat satisfied with Kraft Heinz. Cramer said, "Maybe he shouldn't be so satisfied." He said that Buffett should be "constructive" and "more critical."
Article continues below advertisement
Speaking with CNBC, in response to whether he would buy or sell Kraft Heinz, Buffett said, "I have absolutely no intention of selling. I've got absolutely no intention of buying." When asked why he isn't buying more Kraft Heinz shares despite the fall in the stock, Buffett said, "'Cause it isn't worth as much."
Massive stake
Buffett said that considering Berkshire Hathaway's massive stake in Kraft Heinz, it wouldn't be easy for him to exit the company. According to Buffett, "we can't as a practical matter move around tens of billions of dollars that easily." Buffett admitted that if the holdings in Kraft Heinz were lower, he would have exited the company. Buffett said, "there are other things I think where you get more for your money and better prospects." Buffett also said, "Not that I regard the prospects for Kraft-Heinz as terrible."
Buffett shared his views on Fed Chair Jerome Powell, which we'll discuss in the next part.