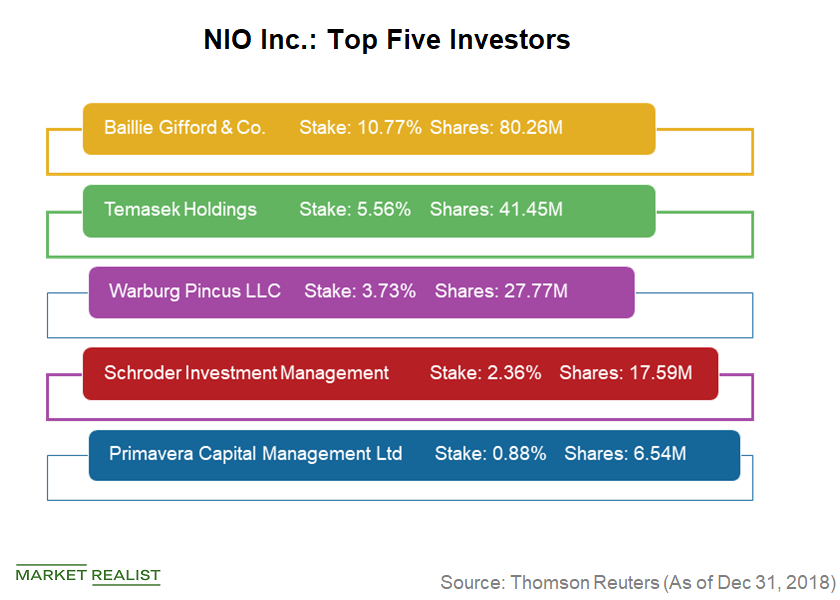 The Top Five Investors in NIO, the 'Tesla of China'
NIO
Previously, we looked at NIO's (NIO) solid stock returns this year—as of March 1, the S&P 500 had risen 11.8% while NIO had risen 57.9%. In February, NIO was ranked fifth in Fast Company's list of China's most innovative companies in 2019. In contrast, US peer Tesla (TSLA) was reviewed negatively by Consumer Reports. On February 21, Consumer Reports stated that it "can no longer recommend the newest Tesla—the Model 3 electric sedan—because members say they've identified a number of problems with their cars, including issues with its body hardware, as well as paint and trim." Interestingly, NIO is known as the "Tesla of China."
Article continues below advertisement
Article continues below advertisement
Top five investors in NIO
According to Reuters, Baillie Gifford was the largest investor in NIO as of December 31. The investment company owned ~10.8% of the company, with ~80.26 million shares.
Temasek Holdings was the second-largest investor in NIO at the end of 2018, owning ~5.6% of NIO (41.45 million shares). Private equity company Warburg Pincus and UK-based Schroder Investment Management owned ~3.7% and ~2.4% of NIO, with 2.77 million and 17.59 million shares, respectively. Primavera Capital Management was the fifth-largest investor in NIO, owning ~0.9% of NIO (~6.54 million shares). Chinese tech giant Tencent Holdings (TCEHY) owned ~0.7% of NIO, with 5.25 million shares. It was NIO's seventh-largest investor.
These investors lost money on NIO in the fourth quarter as the stock fell 8.7%. During the same quarter, Chinese companies Tencent Holdings, HUYA (HUYA), Baidu (BIDU), Alibaba (BABA), Uxin (UXIN), and JD.com (JD) also fell, by 3.4%, 34.4%, 30.6%, 16.8%, 38.4%, and 19.8%, respectively. Auto companies General Motors (GM), Ford (F), Toyota (TM), and Honda (HMC) fell 0.7%, 17.3%, 6.7%, and 12.1%. Next, we'll discuss key updates investors should watch for in NIO's fourth-quarter earnings report.