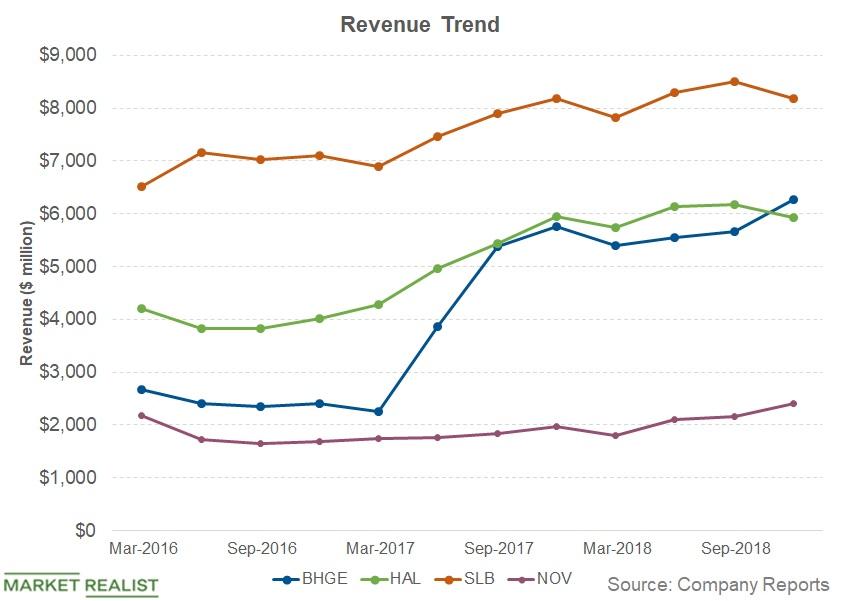 SLB, HAL, BHGE, and NOV: Analyzing the Revenue Trends
By Rekha Khandelwal, CFA

Mar. 25 2019, Published 11:15 a.m. ET
Revenue growth
Halliburton (HAL) and National Oilwell Varco (NOV) recorded 16% revenue growth in 2018—compared to 2017. In comparison, Schlumberger's (SLB) revenues rose 8%. Baker Hughes's (BHGE) revenues rose 33% in 2018—compared to 2017. General Electric (GE) completed the acquisition of Baker Hughes in July 2017. The revenues rose due to combining General Electric's oil and gas operations with Baker Hughes to form BHGE.
In November 2018, General Electric reduced its stake in BHGE from 62.5% to just above 50% by selling stock back to Baker Hughes and through a secondary offering to public investors. General Electric plans to fully divest its stake in BHGE slowly over the next 2–3 years.
Article continues below advertisement
Revenue trend
As the above graph shows, Schlumberger's revenues grew slowly but consistently over the last three years. The company's revenues rose 9% in 2017. Halliburton's revenue growth slowed down from 30% in 2017 to 16% in 2018. In comparison, National Oilwell Varco's revenue growth improved from 1% in 2017 to 16% in 2018.
The softness in completions activity in North America has impacted oilfield services companies' performances. The softness is expected to be sustained in the first half of 2019.