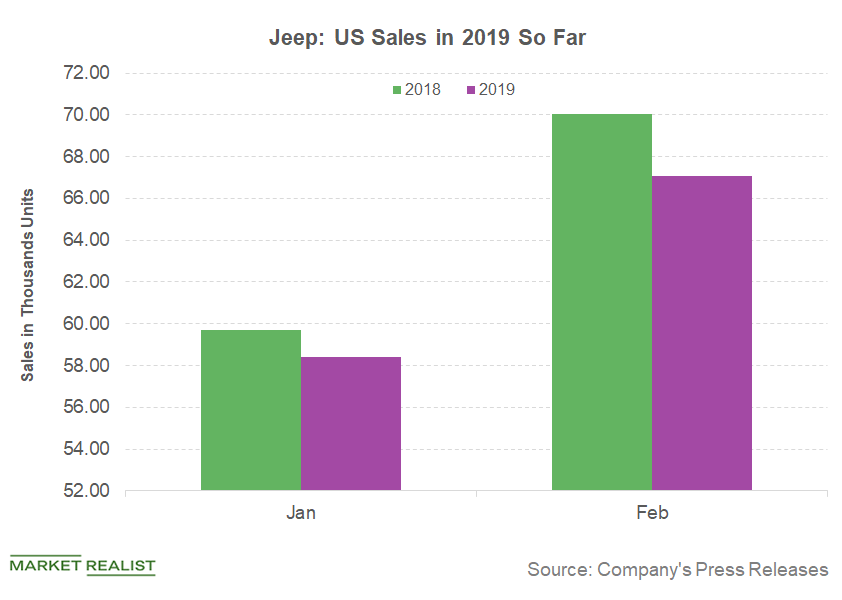 FCAU's US Jeep Sales Fell 4% in February, but Ram Sales Rose 24%
Fiat Chrysler's brand-wise sales
In February 2019, Fiat Chrysler Automobiles (FCAU) sold 1,362 car units of its luxury brand, Alfa Romeo, in the US, reflecting about a 13% YoY decline. A massive drop of 24% and 20% YoY in Alfa Romeo's Giulia and Alfa 4C car models, respectively, hurt the brand's overall sales performance last month. In January, the company reported a 30% YoY decline in its Alfa Romeo brand car sales. Now, let's see how US sales for its other key brands were in February.
Article continues below advertisement
Jeep sales fell by 4%
In February, Fiat Chrysler's Jeep brand sales weakened for the second consecutive month after rising for the previous 12 months. In contrast, total Ram brand sales saw a solid 24% YoY rise to 45,542 vehicle units in February, also much higher than 39,649 units sold in January.
The company sold about 67,075 Jeep units in February, down ~4% YoY. In late 2016, FCAU launched the second generation of its Jeep Compass, which continued to drive impressive positive sales growth until last month.
In February, Fiat's Jeep Compass model sales fell sharply by 25% YoY in the US to 12,063 units. Jeep Grand Cherokee and Cherokee were the top two sold Jeep brand vehicle models last month with 18,009 and 16,020 units sold, respectively. Jeep Wrangler sales also fell by 6% YoY in February to 15,001 units.
Notably, Jeep and Ram are two of the key brands in Fiat Chrysler's US product line. Ram brand also helps it in upholding a notable position in the pickup truck segment.
Impact on Q1 margins
In the most recently reported quarter, Fiat Chrysler's net profit margins were lower than those of Toyota (TM) and General Motors (GM), but higher than Ford's (F).
Pick-up trucks and luxury brand vehicles generate high profit margins for vehicle manufacturers (XLY) as compared to small cars. While rising Ram brand sales could have a positive impact on Fiat Chrysler's Q1 2019 profit margins, a drop in its Jeep and Alfa Romeo brand sales would affect the profitability.