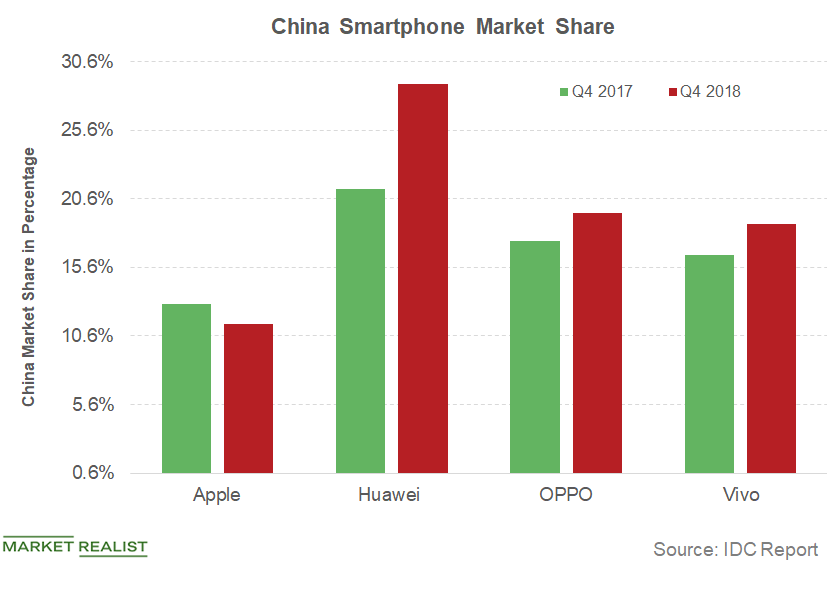 Will Samsung Galaxy Fold Eat up Apple iPhone Market Share?
Apple
In the first part of this series, we looked at Goldman Sachs analyst Rod Hall's views about the new Samsung (SSNLF) Galaxy Fold and how it could pose a risk to Apple (AAPL). Now let's move on by looking at why Apple shouldn't take the threat from Samsung Galaxy Fold lightly.
Article continues below advertisement
The threat to Apple from Samsung Galaxy Fold
Despite the rivalry between the two companies, Samsung is still one of the prominent component suppliers to Apple. Samsung supplies OLED (organic light-emitting diode) displays for Apple devices. However, in 2018, Apple reportedly added LG as its second display supplier.
Samsung claims Galaxy Fold to be the world's first phone that has a 7.3-inch QXGA+, or as the company calls it, "Infinity Flex Display." The phone also has a 4.6-inch cover display that can be used when the device is folded. Also, the phone comes with six built-in cameras including three rear cameras, two front selfie cameras, and one cover selfie camera.
Galaxy Fold's innovative features like the foldable display and the wireless battery power-sharing are some of the features that iPhone buyers pay a high premium to Apple for. Plus, consumers expect Apple to make such innovative technology available first.
Earlier this year, Apple had to cut its first quarter of fiscal 2019 guidance due to its deteriorating iPhone sales. According to the IDC report, Apple's smartphone market share in China fell to 11.5% in the quarter, which ended in December 2018, compared to 12.9% in the quarter that ended in December 2017. It is high time that Apple act and innovate to regain its customers' confidence in its smartphones before it's too late.
On a year-to-date basis, Apple has gone up by 8.4% as of February 21. Microsoft (MSFT), NVIDIA (NVDA), Alphabet (GOOG), Facebook (FB), Amazon (AMZN), Netflix (NFLX), Oracle (ORCL), Intel (INTC), Advanced Micro Devices (AMD), Micron (MU), and AT&T (T) have risen by 7.7%, 16.7%, 5.7%, 22.1%, 7.8%, 33.4%, 15.4%, 9.5%, 29.6%, 30.9%, and 8.0% YTD, respectively. Chipmaker Qualcomm has lost 8.0% YTD.
Tencent Holdings (TCEHY) and Baidu (BIDU) have also gone up by 9.1% and 8.3% in 2019 so far, respectively.