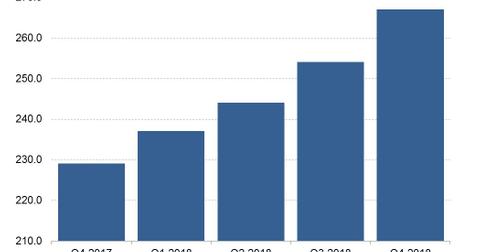 What to Know about PayPal's Customer Loyalty
By Neha Gupta

Updated
PayPal's service uptake remains strong despite price hike
PayPal (PYPL) is battling competition from all sides. Last year, Square (SQ) sought to challenge it in the consumer loans market. eBay (EBAY), a longtime PayPal client and former parent, is steadily turning into a competitor following its partnership with Dutch payment processor Adyen last year. Google (GOOGL) and Facebook (FB) are also expanding their payment ambitions in a challenge to PayPal.
In such a highly competitive environment, hiking prices for customers may seem like shooting oneself in the foot. But PayPal did just that last October, raising the instant bank transfer fee for its Venmo service. PayPal increased the Venmo instant bank transfer fee to 1.0% of the amount being transferred. The company had previously charged a flat fee of $0.25 for such transactions regardless of amount. What followed? More people adopted the service, with PayPal CEO Dan Schulman saying in an interview with Bloomberg TV that Venmo had added a record number of new customers in the last three consecutive quarters.
Article continues below advertisement
PayPal's strategic advantage
PayPal currently doesn't reveal the size of its Venmo user base, but its number of overall active customers increased to 267 million in the fourth quarter from 254 million in the third quarter. More than 250 million of these active customers are consumers, while ~20 million are merchants.
PayPal cites its massive consumer base as a strategic advantage in pulling more merchants to its platform. For example, PayPal has touted its swelling consumer base to try to win business from large retailers such as Amazon (AMZN).