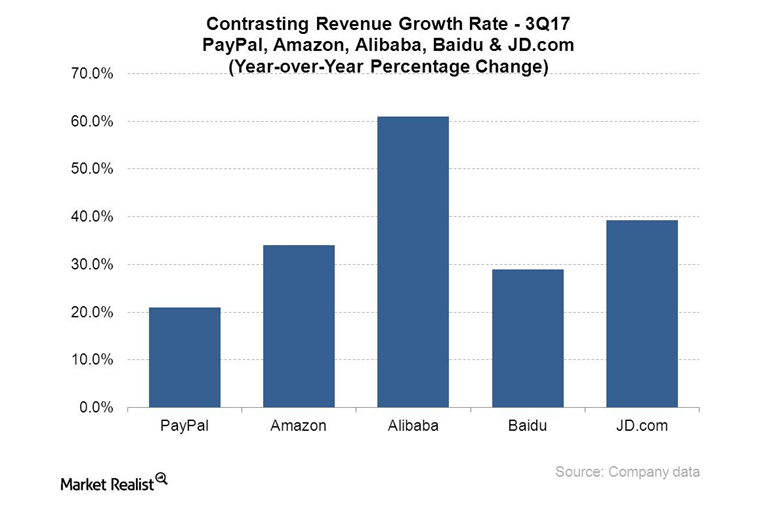 Revisiting PayPal–Amazon Payment Partnership Talks
PayPal seeks a partnership with Amazon
PayPal's (PYPL) chief financial officer, John Rainey, mentioned partnering with Amazon (AMZN) when he spoke at a recent Credit Suisse technology event. However, he didn't clarify whether the companies were still in active talks.
In 2017, PayPal's CEO, Dan Schulman, noted that the company had been talking with Amazon with respect to a payments partnership. He added that the talks revolved around letting shoppers pay for Amazon purchases using their PayPal accounts.
Schulman noted that PayPal was approaching 200 million consumer accounts at the time and added, "At that scale, it's hard for any retailer to think about not accepting PayPal." But a deal with Amazon has never come.
Like rival retailers Walmart (WMT), Alibaba (BABA), and JD.com (JD), Amazon has a native payment service. As a result, Amazon may have little pressure or incentive to accept a third-party payment service.
Article continues below advertisement
Making PayPal universal
According to Rainey, partnering with Amazon wouldn't be primarily to benefit from the e-commerce titan's massive market share but to enable PayPal customers to easily utilize the service.
The goal of making PayPal a universally accepted payment method is what led the company to form partnerships with card networks Visa (V) and Mastercard (MA). PayPal's overall revenues grew 21% year-over-year in 3Q17, compared with 34% growth at Amazon, as shown in the chart above.