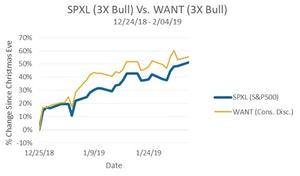 What Could Threaten the Consumer Sector's Strong Start to 2019
Direxion
Consumer discretionary gets off to a strong start
The Consumer Discretionary sector posted very strong performance in January as the Direxion Daily Consumer Discretionary Bull (WANT) returned more than 30%, which is especially impressive given that we had a government shutdown during most of January.
The rally was led by solid performances in some of the sector's largest weightings, including Amazon, Home Depot, Nike, Starbucks, Booking Holdings, and TJX Companies.
Article continues below advertisement
The primary concern surrounding the consumer discretionary sector, like every other sector, is a trade deal with China. A deal would likely send the majority of the stocks in this sector higher and help ease the pain of deceleration in earnings growth, which can be attributed entirely to the changes in the tax code that went into effect in 2018. The bottom line: with low unemployment but a slower economy, can the consumer keep spending? Will they WANT (3X Bullish) more goods and services or will they PASS (3X Bearish)?
Conclusion
Who doesn't love a comeback—and especially one that makes you money? But this bounce has been vicious and, in many ways, reasonable. Earnings were not as bad as feared, and neither were outlooks. But let's be honest—they weren't great either. So this is a good time to reassess your portfolio, and Direxion has just the right tools to help you.
Article continues below advertisement
Market Realist
Consumer's sector solid performance this year
2018 wasn't a good year for the US consumer sector due to escalating trade war tensions and a slowing economy. Both the consumer staples and consumer discretionary index declined 11.1% and 0.49%, respectively, in 2018. However, 2019 started on a positive note. The consumer discretionary sector, in particular, has shown tremendous growth driven by the performance of the companies that have the largest weights in the index.
Amazon (AMZN) was a part of the discretionary index until its Q4 earnings were released. The stock has risen 9% YTD. Nike (NKE) also posted earnings growth of 13% for Q2 2019, and the stock has gained 15.1% YTD. TJX Companies (TJX) reported earnings growth of 26.0% for Q3 2019, and the stock has increased 11.5% YTD. Booking Holdings (BKNG) also posted earnings growth of 7.0% in Q3 2018, and the stock has gained 11.4% YTD. Home Depot (HD), Starbucks (SBUX), and Lowe's Companies (LOW) also reported positive gains YTD in 2019, which drove the sector's performance as shown in the chart above.
Article continues below advertisement
The consumer sector could gain from a trade deal with China since most of these companies earn a share of revenue from overseas operations. Other factors that could present a headwind for the consumer sector is economic growth. Whether or not the trade deal and economic growth affect the consumer sector, Direxion offers you choices like the Direxion Daily Consumer Discretionary 3X Bull (WANT) and the Direxion Daily Consumer Discretionary 3X Bear (PASS) ETFs.
Will the stock market rally continue in 2019? Will the economic growth slow down? Will the trade deal with China prove to be advantageous for the US? Investors need to watch out and carefully plan their investments this year. No matter what, Direxion has you covered with leveraged ETFs in each sector.