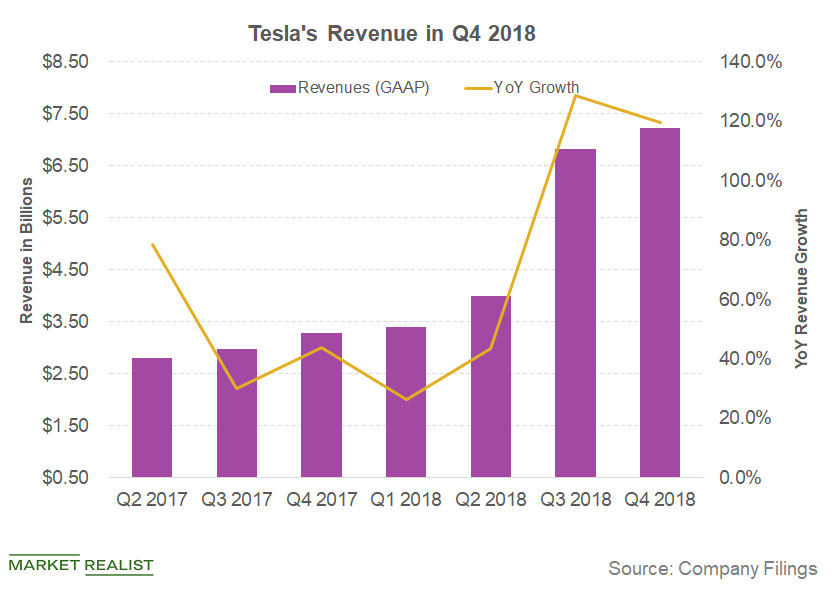 Analyzing Tesla's Revenue Beat in Q4 2018
Tesla's Q4 2018 revenue
In the fourth quarter, Tesla (TSLA) reported GAAP (generally accepted accounting principles) revenue of ~$7.23 billion, which reflected an increase of ~119.7% YoY from $3.29 billion revenue in the same quarter of 2017 and 5.8% sequential growth. With this, TSLA managed to beat analysts' fourth-quarter revenue estimates of $7.08 billion. In the third quarter of 2018, the company's YoY revenue growth rate was slightly higher at ~128.6% as compared to about 119.7% in the fourth quarter.
Article continues below advertisement
Article continues below advertisement
Automotive revenue growth
In the fourth quarter, Tesla delivered 90,966 car units to customers, a huge 203.6% YoY increase. The company delivered 27,607 units of Model S and Model X and 63,359 units of Model 3 in the last quarter. These total car deliveries in the fourth quarter also reflected handsome 8.6% sequential growth.
With solid YoY positive growth in car deliveries, TSLA managed to generate revenues of $6.32 billion from the automotive segment, about 134% higher on a YoY basis and up 3.7% sequentially. Despite recent improvements, Tesla's annual car production is much lower than the annual vehicle production of mainstream automakers (IYK) including Ford (F) and General Motors (GM), but much higher than Chinese (MCHI) competitor NIO (NIO).
Energy segment revenue
Tesla's energy generation and storage segment revenue stood at $371 million in the fourth quarter, 7.0% lower as compared to $3.99 million in the third quarter of 2018 but 24.6% higher YoY.
TSLA was able to nearly triple its energy storage deployments in 2018 as compared 2017, which was in line with its expectations.
Continue to the next part to learn about Tesla's fourth-quarter gross margin.