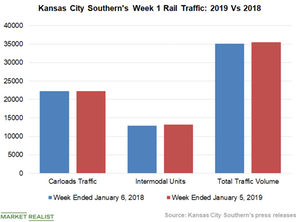 Kansas City Was the Lowest Rail Traffic Volume Gainer in Week 1
By Anirudha Bhagat

Jan. 15 2019, Updated 7:30 a.m. ET
Rail traffic
Kansas City Southern's (KSU) rail traffic in Week 1 increased 1% YoY to 35,468 railcars from 35,114 railcars. The company's rail traffic growth rate for the week was the lowest among all Class I railroad companies (IYT).
Norfolk Southern (NSC) had the highest rail traffic gain of 15.8% during the week. CSX (CSX) and Canadian National Railway (CNI) were in second and third with 9.9% and 9.3% gains, respectively.
Article continues below advertisement
Carload traffic
Kansas City's carload traffic for the week remains flat YoY at 22,224 units. Kansas City was the only railroad company that didn't register a YoY increase in carload traffic. Norfolk Southern came in first with a 24.4% carload gain in Week 1 followed by CSX's 18.4% carload gain and BNSF Railway's 17.5% carload gain.
The commodity groups excluding coal and coke carloads accounted for 83% of Kansas City's total carload traffic in the first week. The remaining 17% railcars were for coal and coke commodities. Commodity groups excluding coal and coke reported a 2.9% YoY traffic increase in Week 1. Kansas City Southern moved 18,527 railcars excluding coal and coke in the week compared to 18,012 railcars in Week 1 of 2011. However, coal and coke traffic declined 12.2% YoY in the week to 3,697 railcars from 4,212 railcars.
Commodities excluding coal and coke that reported notable volume growth in the week included petroleum products, chemicals, and metals & products. Commodities that recorded a YoY decline in their volumes in Week 1 included grain, metallic ores, non-metallic minerals, and motor vehicles & equipment.
Intermodal volumes
Kansas City reported a 2.2% YoY decrease in intermodal traffic in the first week of 2019. The company carried 14,060 containers and trailers in the week compared to 14,376 units in the same week of the previous year. Its container volumes rose 4.1% YoY to 13,058 units in Week 1 compared to 12,545 units in the same week of 2018. However, the railroad company's trailer traffic plunged 46.1% YoY to 186 units from 345 units.