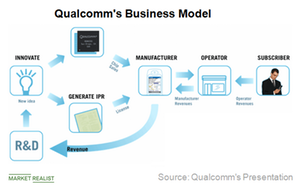 Impact of US FTC-Qualcomm Court Ruling on the Smartphone Industry
All eyes on the FTC-Qualcomm court ruling
Previously, we learned that a trial between Qualcomm (QCOM) and the FTC (Federal Trade Commission) had started and that Apple (AAPL) and the smartphone supply chain would be closely following it.
The court's ruling could significantly change Qualcomm's business model as well as the way the smartphone industry functions.
Qualcomm is a market leader in modem technology. The company licenses its SEPs (standard essential patent) to phone makers but not to competitors, which helps it remain unbeatable. Qualcomm's chips power the majority of smartphones—especially high-end smartphones—across the world.
Article continues below advertisement
Article continues below advertisement
If the court ruling forces Qualcomm to charge royalties on the selling price of the modem instead of the selling price of the mobile device, the licensing bills of handset makers and Qualcomm's licensing revenue will reduce significantly. The ruling will likely also influence the rulings of other courts, in which the company is facing similar allegations from Apple and regulators in Taiwan, South Korea, and Europe.
What if the court rules in favor of Qualcomm?
If the US court rules in favor of Qualcomm, the tables will turn, and the company's stock will likely soar. Such a ruling would provide strong support to Qualcomm's licensing model and give it an edge in other lawsuits against Apple and other countries' regulators.
Qualcomm depends heavily on its licensing business for profits. The company says that Apple has $7 billion in unpaid royalty fees. Apple stopped making licensing payments to Qualcomm in 2017 in anticipation of the court's ruling.
The question remains as to where the court's ruling will fall. We'll try to answer this question in the next article.