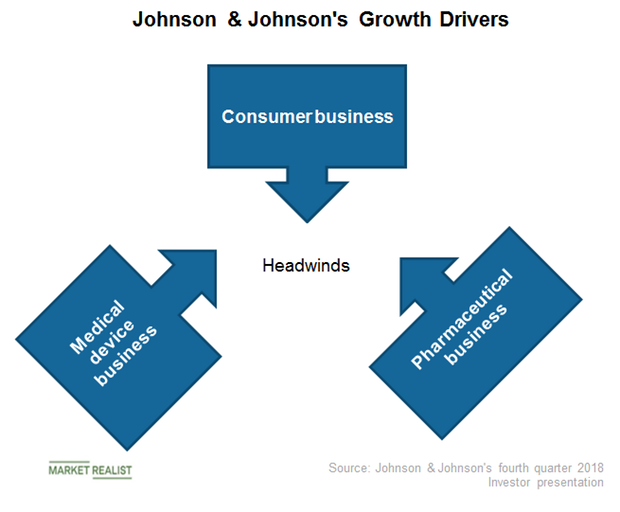 Here Are Some Possible Headwinds and Tailwinds for JNJ in 2019
Headwinds
Article continues below advertisement
Tailwinds
According to Johnson & Johnson's fourth-quarter earnings conference call, the company has a strong core business with 26 products and platforms that generate revenues of $1.0 billion or more annually. This coupled with improved execution and new product launches across all of its business segments could drive Johnson & Johnson's growth in fiscal 2019.
The company expects its Consumer business to grow at an above-market rate in 2019, driven by new product launches and improved go-to-market models. According to Johnson & Johnson's fourth-quarter earnings conference call, in 2018, the company benefited from the robust performance of its key established brands such as Listerine, Neutrogena, Tylenol, Motrin, Aveeno, as well as new consumer brands like OGX. Additionally, the strong relaunch of Johnson's Baby brand helped boost Consumer business revenues in fiscal 2018. Johnson & Johnson is focused on strengthening its position in the consumer business through the introduction of innovative products and its continued geographic expansion strategy.
The company is focused on achieving above-market growth rates for its Medical device business in fiscal 2020 through better implementation of the strategy and continued product innovation. In fiscal 2020, the company reported robust sales in key areas of its Medical device business such as Vision, Advanced Surgery, and Interventional Solutions.
Recently launched products such as Erleada and Tremfya are expected to witness robust uptake in fiscal 2019. Additionally, established products such as Imbruvica, Stelara, and Darzalex are expected to report label expansion and increased uptake in fiscal 2019.
Potential regulatory approval and subsequent market launch of products such as esketamine in treatment-resistant depression indication and erdafitinib in the bladder cancer indication are also expected to prove to be a major growth driver for the company in fiscal 2019.
In the next article, we'll discuss balance sheet and shareholder returns for Johnson & Johnson in greater detail.