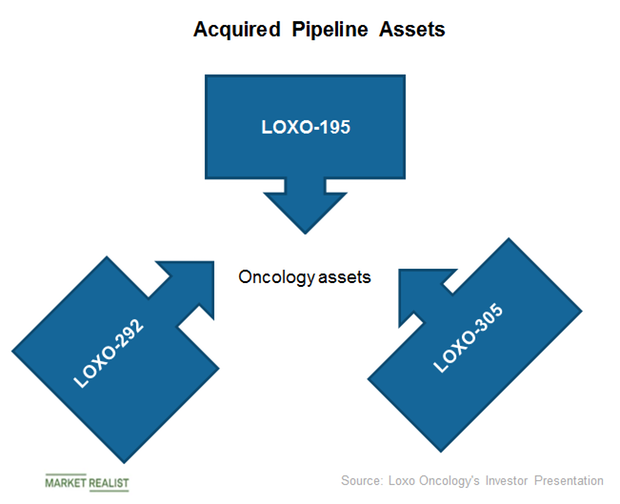 Eli Lilly and Loxo: A Robust Oncology Pipeline for Future Years
Robust oncology pipeline
Eli Lilly and Company's (LLY) acquisition of Loxo Oncology has added the FDA approved asset VITRAKVI and the early- and mid-stage oncology pipeline assets LOXO-305, LOXO-195, and LOXO-292.
According to Eli Lilly's press release, the deal is expected to strengthen Eli Lilly's position in the precision medicine market by adding selective medicines that target genomically defined cancers.
Article continues below advertisement
LOXO-195
According to LLY's presentation, Loxo Oncology and Bayer are currently codeveloping the Phase 1/2 asset and TRK (tyrosine kinase) inhibitor LOXO-195 for patients who have acquired a resistance and aren't responding to other TRK inhibitors. The asset is currently being studied in a Phase 1/2 trial, which started in July 2017.
Additionally, according to Eli Lilly's M&A (mergers and acquisitions) conference call, LOXO-195 was granted an orphan drug designation by the FDA in October 2018. The company is expected to announce data from its Phase 1 trial in the first half of 2019.
According to Eli Lilly's investor presentation, a new drug application for LOXO-195 is expected to be submitted in 2021, while a regulatory decision is expected in 2022.
LOXO-292
According to Eli Lilly's investor presentation, investigational asset and selective oral RET inhibitor LOXO-292 has been granted a breakthrough therapy designation by the FDA in three indications: RET fusion-positive non-small cell lung cancer, RET mutant medullary thyroid cancer, and RET fusion-positive thyroid cancer.
According to Eli Lilly's M&A conference call, data from the ongoing registrational Phase 2 trial for LOXO-292 is expected in the second half of 2019, while a regulatory filing in the United States is expected in late 2019. According to the call, a regulatory decision and a commercial launch of LOXO-292 are expected in 2020.
LOXO-305
According to Eli Lilly's investor presentation, Loxo Oncology has started a Phase 1/2 trial to evaluate non-covalent Bruton's tyrosine kinase inhibitor LOXO-305 in B-cell leukemia and lymphoma indications.