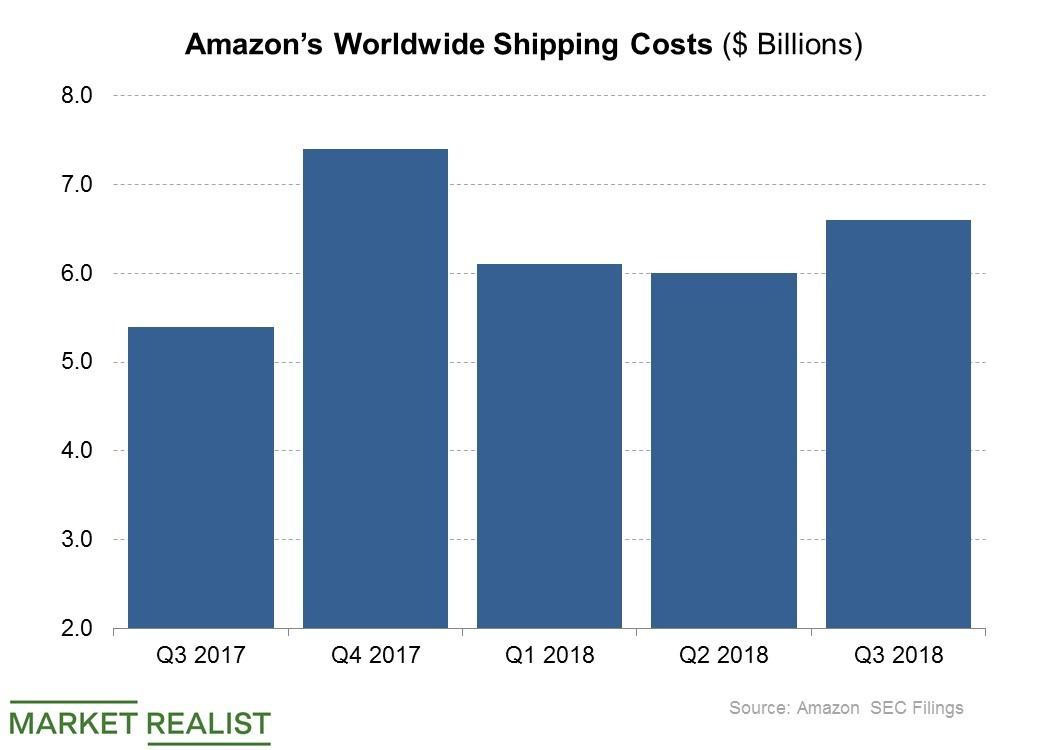 Amazon Is Trying New Cost-Cutting Approach
Robots help Amazon with last-mile deliveries
Amazon (AMZN) recently began using robots to deliver packages to customers in parts of Seattle on an experimental basis. The so-called Amazon Scout program uses cooler-sized robots running on six wheels to make last-mile deliveries. Amazon started with a fleet of six robots delivering packages Monday through Friday during the day.
Last-mile delivery is a labor-intensive and costly operation for e-commerce companies, so automating the work could lead to substantial cost savings for Amazon. In the third quarter of 2018, Amazon incurred $6.6 billion in shipping expenses, representing an increase of 22% year-over-year.
Article continues below advertisement
Article continues below advertisement
Race to provide express delivery
In addition to saving on shipping costs, robot delivery could also help Amazon cut the time it takes to get packages to customers. For Amazon, speeding up deliveries can unlock many benefits. It could help the company drive the uptake of its Prime membership program and draw more sellers to its Fulfillment by Amazon service.
Amid tight competition for customers, e-commerce companies are trying to woo shoppers with express delivery services. As a result, a growing number of e-commerce companies have sought to automate their delivery system. JD.com (JD) last year began using rolling robots to deliver packages to customers in parts of China. In addition to robots, JD.com and its domestic rival Alibaba (BABA) have also invested in drone deliveries as they seek to cut down shipping expenses and speed up delivery time. Walmart (WMT) has teamed up with Ford Motor (F) on a program where Ford's self-driving vehicles will be used to deliver grocery packages to Walmart customers.