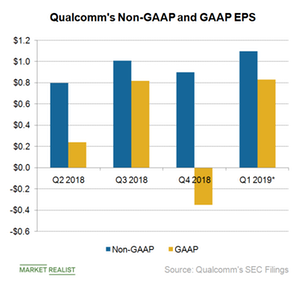 What Qualcomm Investors Should Watch For
Qualcomm's 2018 headwinds
Among semiconductor stocks, Qualcomm (QCOM) may have been hit the hardest by US-China trade tension. The trade war impeded the company's long-pending NXP Semiconductors (NXPI) acquisition and forced Qualcomm to walk out of the deal with a $2 billion termination fee. With the acquisition, Qualcomm was aiming to diversify away from smartphones, from which it earns much of its revenue.
Qualcomm's business is divided into two segments: the chipset segment, which comprises sales of cellular chips and processors to smartphone makers, and the licensing segment, which comprises global patent licensing. The company's licensing segment, from which it earns ~80% of its profit, faced fines from global regulators. Although Qualcomm coped with these headwinds, it received a major blow when its key customer, Apple (AAPL), filed a licensing lawsuit in January 2017.
Article continues below advertisement
The Apple-Qualcomm dispute
The Apple lawsuit was a licensing dispute before it became a global patent lawsuit. Although Qualcomm has reiterated that it is looking to resolve the licensing issue with Apple, the two companies are preparing for trials.
Impact on Qualcomm's earnings
Qualcomm reported GAAP EPS of -$0.35 in the fourth quarter of fiscal 2018 because of the $2 billion termination fee it paid to NXP and the high litigation expenses from its Apple lawsuit. Adding to Qualcomm's woes, Apple ditched Qualcomm's modems in favor of Intel's (INTC) for its 2018 iPhone models, which could slash more than $750 million from Qualcomm's chipset revenue in the first quarter of fiscal 2019. Qualcomm expects its revenue to fall 15.5% sequentially in the first quarter of fiscal 2019.
What should investors look for in 2019?
Investors should watch for updates on the Qualcomm-Apple dispute. If Qualcomm succeeds in resolving its dispute with Apple in fiscal 2019, it could add $1.50–$2.25 to its EPS and $2 billion to its cash flow, and significantly reduce its litigation expenses. Qualcomm stock could rise by a double-digit percentage rate. Next, we'll look at what could affect Intel stock next year.
Check out all the data we have added to our quote pages. Now you can get a valuation snapshot, earnings and revenue estimates, and historical data as well as dividend info. Take a look!