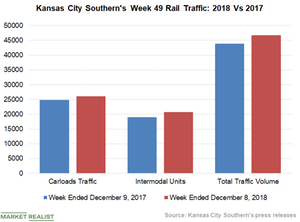 Kansas City Southern: Top Rail Traffic Volume Gainer in Week 49
By Anirudha Bhagat

Dec. 14 2018, Published 10:47 a.m. ET
Rail traffic rebounded
After registering a 0.5% rail traffic decline in Week 48, Kansas City Southern (KSU) made a remarkable turnaround. The company's total rail traffic increased 6.7% YoY (year-over-year) in Week 49 to 46,780 units from 43,855 units in the same week last year. The company registered YoY growth in both carload and intermodal traffic.
KSU's traffic volume gain was the highest among all of the Class I railroad companies during the week (IYT). Union Pacific (UNP), Norfolk Southern (NSC), and Canadian National Railway (CNI) were in second, third, and fourth with 5.7%, 3.3%, and 2.6% gains, respectively.
Article continues below advertisement
Carload traffic
In Week 49, the company reported a 4.8% YoY increase in its carload traffic, the highest among all Class I railroad companies. Kansas City Southern moved 26,044 railcars excluding intermodal units in Week 49 compared to 24,849 units in Week 49 of 2017. The increase in the company's carload traffic was much higher than the 0.3% overall growth reported by US railroad companies.
Commodities excluding coal and coke carloads accounted for 86% of Kansas City Southern's total carload traffic in Week 49. Coal and coke railcars accounted for 14% of the company's total carloads. Commodities excluding coal and coke reported 12% YoY traffic growth in Week 49. Kansas City Southern hauled 22,488 railcars excluding coal and coke in Week 49 compared to 20,072 units in Week 49 of 2017. Coal and coke traffic fell 25.6% YoY in the week to 3,556 railcars from 4,777 railcars.
The commodity groups excluding coal and coke that reported notable volume growth in Week 49 included grain, food and kindred products, petroleum products, iron and steel scrap, and stone, clay, and glass products. The commodity groups that recorded YoY falls in their volumes in Week 49 included metallic ores and motor vehicles and equipment.
Intermodal volumes
Kansas City Southern reported a 9.1% YoY increase in intermodal traffic in Week 49, the second-highest growth after Union Pacific's (UNP) 15.7% gain. The company carried 20,736 containers and trailers in Week 49 compared to 19,006 units in the same week last year. Kansas City Southern's container volumes rose 11.2% YoY to 20,397 units in Week 49 compared to 18,337 units in 2017. However, the company's trailer traffic fell 49.3% YoY to 339 units from 669 units.
Next, we'll discuss Union Pacific's rail traffic performance.