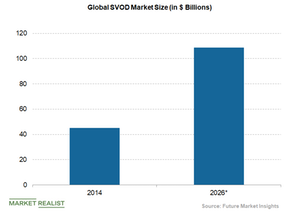 How Much Is Netflix Spending on Original Content in Europe?
By Sophia Nicholson

Dec. 3 2018, Updated 3:20 p.m. ET
Netflix's original content spending in Europe
Netflix (NFLX) is the global leader in streaming movies and TV shows and has remained focused on investing in original content as well as original programming to grow its subscriber base worldwide. Internationally, Netflix has recently ramped up the production of new shows and movies across Europe in 2019.
According to a Financial Times report on November 26, Netflix plans to invest around $1 billion on original and co-produced content in Europe (EFA) to produce about 221 new shows in 2019 including 153 originals. Content spending for 2019 has increased more than twice since last year, which signals the growing demand for European shows and movies.
Article continues below advertisement
Investment in originals by peers
In 2017, Netflix invested around $6.0 billion in original content and rolled out nearly 30 new original shows, whereas, in 2016, the investments were around $5 billion. Netflix is planning to spend more than $8 billion in original programming this year and targets 1,000 original shows and movies by the end of 2018.
Like Netflix, Hulu and Amazon (AMZN) are also investing aggressively in the online video streaming market. Netflix, Hulu, and Amazon Prime Video are expected to spend $10 billion annually in original content by 2022. Facebook (FB) has also allocated around $1 billion last year to acquire new content, while Walt Disney (DIS) has plans to reveal its direct-to-consumer streaming service in 2019. Last year, the iPhone maker Apple had also committed to investing around $1 billion in original content in 2018.
According to Future Market Insights, the global SVOD market is expected to reach $108.6 billion by 2026, owing to the growing number of people trending towards video streaming services.