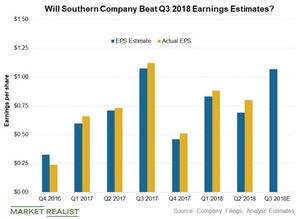 Will Southern Company Beat Its Q3 EPS Estimates?
Earnings
Southern Company (SO) is expected to report an EPS of $1.07 for the quarter ending on September 30. In the same quarter last year, the company reported an EPS of $1.12. Southern Company's management has given an EPS guidance of $1.05 for the third quarter.
Article continues below advertisement
Power plant issues
During Southern Company's second-quarter earnings, its principal subsidiary Georgia Power announced another cost increase of $1.1 billion associated with Plant Vogtle. Southern Company's Plant Vogtle has faced a number of cost overruns and delays in the last few years. The total project cost has exceeded $27.0 billion—more than double the original estimate a decade ago. Since Southern Company's second-quarter earnings, the stock has fallen almost 8%.
All four of Plant Vogtle's co-owners voted to go ahead with the project construction late last month. To learn more, read Southern Company Stock Remains Weak amid Vogtle Worries.
In the second quarter, Southern Company reported an EPS of $0.80—an increase of almost 10% year-over-year.
Southern Company aims for a long-term EPS growth rate of 4%–6% per year—in line with utilities' (XLU) average. Southern Company has plans to issue an incremental $800 million in new common equity this year to support its capital structure and credit profile as well as Georgia Power's credit profile. Southern Company generates most of its earnings from regulated operations. Regulated operations enable relatively stable and predictable earnings compared to competitive operations.