Why Analysts Expect Home Depot's Revenue to Rise in Q3
Analysts expect Home Depot (HD) to post third-quarter revenue of $26.3 billion, a rise of 4.9% year-over-year.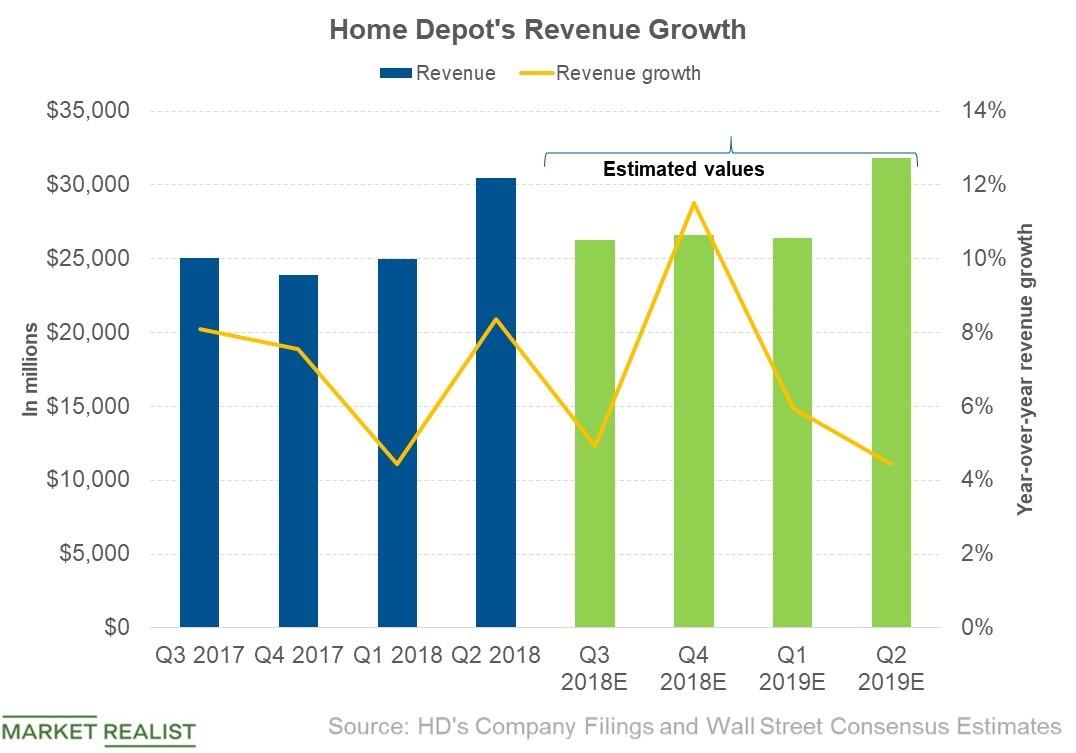 Third-quarter expectations
Analysts expect Home Depot (HD) to post third-quarter revenue of $26.3 billion, a rise of 4.9% from $25.03 billion in the corresponding quarter of the previous year.
The company's revenue growth is expected to be driven by its adoption of a new accounting standard, its new store additions over the last four quarters, and its positive SSSG (same-store sales growth).
By the end of the second quarter, Home Depot operated 2,286 stores compared to 2,283 stores at the end of the third quarter of 2017. These new stores and the stores it opened in the third quarter are expected to drive its revenue.
To drive its SSSG, Home Depot is focusing on improving its delivery and fulfillment options, improving its product offerings, enhancing the customer experience through an interconnected shopping experience, and improving customer satisfaction.
Article continues below advertisement
Article continues below advertisement
In June, the company's management announced that it would invest $1.2 billion in strengthening its supply chain and improving its delivery speed over the next five years. As part of this initiative, on September 26, the company launched its express delivery service, which will deliver more than 20,000 of its products on the same day or the following day in 35 major markets in the United States. To offer the new delivery service for smaller products, Home Depot has partnered with Roadie and Deliv. For the delivery of bulk products, the company is expanding its supply chain network.
Home Depot has implemented its wayfinding signs and store refresh packages into more than 500 stores since the beginning of 2018. In the third quarter, Home Depot partnered with Bosch to sell its home appliances at its stores. Also, during the quarter, the company introduced LifeProof slip-resistant tile and the Husky tool portfolio.
Article continues below advertisement
Peer comparison
In the same period, analysts expect Lowe's Companies (LOW) and Williams-Sonoma (WSM) to post revenue rises of 3.5% and 5.2%, respectively.
Outlook
For 2018, Home Depot's management expects its revenue to rise 7.0%, which accounts for one extra week of operations in 2018. Its management also expects it to report SSSG of 5.3% and to open three new stores in the period.
Next, let's look at analysts' EPS expectations for HD's third quarter.