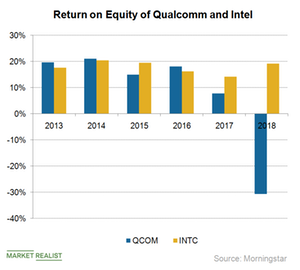 What Qualcomm's Negative Efficiency Ratios Mean to Investors
Qualcomm's efficiency ratios
In this series, we've learned that Qualcomm's (QCOM) fiscal 2018 earnings took a hit as the smartphone market weakened and modem orders from Apple (AAPL) fell to zero. Qualcomm also withdrew from its NXP Semiconductors (NXPI) acquisition to remove uncertainty and focus on other growth opportunities.
As Qualcomm's investment in the NXP acquisition failed to materialize, its ROI (return on investment) took a big hit. A company's efficiency ratios show the returns its management delivers from investments.
Article continues below advertisement
Return on investment
A company's ROI measures the income it earns on its total investments and is influenced by a company's capital structure and investment cost. Qualcomm's ROI fell from 12.7% in fiscal 2016 to 4.9% in fiscal 2017 and -13.6% in fiscal 2018 as Apple headwinds significantly affected its net income.
On the other hand, rival Intel (INTC) improved its ROI from 10.3% in 2017 to 15% in the trailing 12 months that ended in September. This improved ROI came as the company saw strong growth in the PC and server markets.
Return on equity
A company's ROE (return on equity) removes capital structure influence and shows the profit a company can generate from shareholder capital in a particular period of time. A company can improve its ROE by repurchasing shares or improving its net income.
Qualcomm's ROE fell from 18% in fiscal 2016 to 7.9% in fiscal 2017 and -30.7% in fiscal 2018 even though it undertook its biggest stock buyback of $21 billion in the year. Its ROE fell as its investment of more than $40 billion in the NXP acquisition failed due to a delay in Chinese regulatory approvals. Moreover, its loss of Apple's business reduced its net income.
If we consider its efficiency ratios, Qualcomm's management has failed to please shareholders in the last two years. However, if we look at the situation from a future growth perspective, Qualcomm took a hit on its fiscal 2018 earnings to remove uncertainty and start fresh with 5G (fifth-generation) technology.
Investors should keep an eye on Qualcomm, as the stock will likely fall further due to weak guidance before it picks up as 5G opportunities start to materialize in 2019. Next, let's see whether the stock's value is attractive to long-term investors.