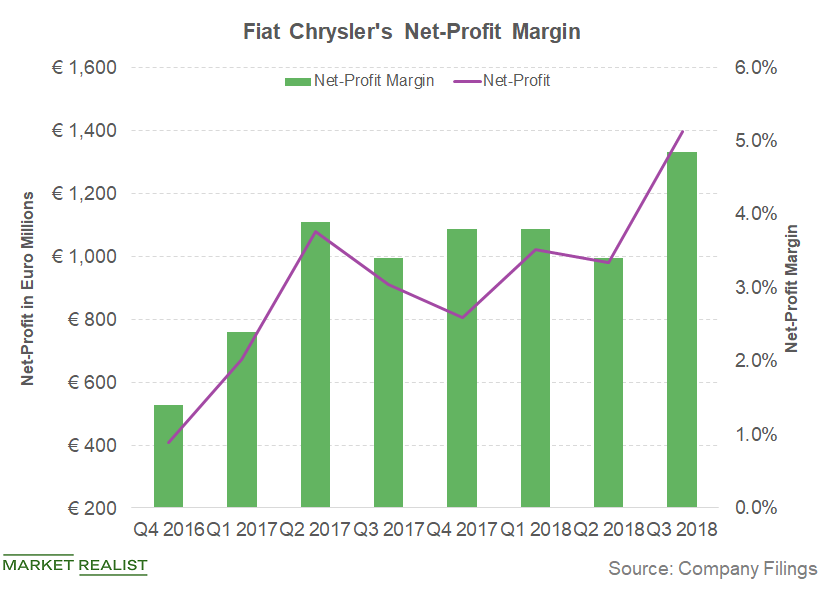 What Helped Fiat Chrysler Expand Its Profit Margin in Q3 2018?
Fiat Chrysler's profitability
In the previous two articles, we looked at Fiat Chrysler Automobiles' (FCAU) revenue from its key markets, including North America, Europe, the Asia-Pacific region, and Latin America. Its revenue from Latin America and the Asia-Pacific region fell, while its European revenue remained flat in the quarter.
Nonetheless, FCAU's solid revenue from North America helped it report stronger global revenue. Let's move on by looking at the company's third-quarter profit margin.
Article continues below advertisement
Profit margins expanded
A couple of years ago, FCAU had a bad reputation for having the lowest profit margins among legacy automakers (FXD). In comparison, General Motors' (GM), Ford Motor Company's (F), and Volkswagen's (VLKAY) profit margins were much higher than Fiat Chrysler's. However, FCAU has managed to make its profit margins comparable to those of its peers in the last few quarters.
Fiat Chrysler's profit margins expanded YoY (year-over-year) in the third quarter. The company's adjusted EBIT stood at 2.0 billion euros, or ~$2.3 billion. With this, its third-quarter adjusted EBIT margin expanded to 6.9% from 6.7% in the third quarter of 2017.
Similarly, Fiat Chrysler's adjusted net profit rose 51% YoY to 1.4 billion euros, or $1.6 billion, with a solid net profit margin of 4.9% in the third quarter. This margin reflected an impressive improvement from its net profit margin of 3.5% in the third quarter of 2017. The company reported an adjusted net profit of 922 million euros, or $1.0 billion, in the third quarter of 2017.
Key positive factors
In the third quarter, Fiat Chrysler managed to report higher profitability mainly from its Latin America and North America segments. In contrast, its profits from the Asia-Pacific and EMEA (Europe, the Middle East, and Africa) regions fell. In North America, FCAU's third-quarter adjusted EBIT margin was 10.2% compared to 8.0% a year ago.
Higher sales of trucks and utility vehicles in the United States continued to help the company improve its margins in the quarter, as they tend to yield stronger profits than passenger cars.
In the next article, we'll take a look at the Maserati brand's recent performance.