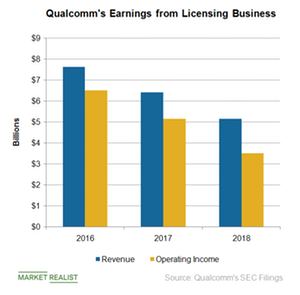 Qualcomm's Licensing Business in 2018
Qualcomm Technology Licensing
Qualcomm (QCOM) earns revenues in two ways—selling chips and licensing its technology. Qualcomm doesn't license its modem technology to rivals like Intel and MediaTek. Some regulators objected to the practice and said it was an anti-trust issue. In August, Qualcomm settled the anti-trust issue with Taiwan's FTC (Federal Trade Commission). Now, Qualcomm is in settlement talks with the US FTC.
The biggest issue at hand for QTL (Qualcomm Technology Licensing) is the licensing dispute with Apple (AAPL) and its contract manufacturers. Qualcomm claims that Apple has retained royalty payments worth $7 billion over the last 18 months. The loss from Apple was partially offset by a favorable trend in global 3G/4G devices where the demand shifted to mid and higher range devices. The overall ASP (average selling price) and Qualcomm's royalty increased. Qualcomm's royalty is based on devices' selling price.
Article continues below advertisement
Fourth-quarter earnings
In the fourth quarter, QTL's revenues fell 22% sequentially and 5% YoY (year-over-year) to $1.14 billion—in line with its midpoint guidance of $1.1 billion. QTL's operating margin fell from 69% last year to 65% in the fourth quarter due to high litigation expenses. However, the 65% margin was higher than Qualcomm's guided range of 58%–62%. The litigation expenses were lower than the company's expectations.
The quarter also included $100 million in revenues from the partial settlement of a dispute with an unnamed licensee, which analysts think is Huawei.
In 2018, QTL's revenues fell 20% YoY to $5.2 billion, while the operating profit fell 32% YoY to $3.5 billion. The operating margin fell from 80% in fiscal 2017 to 68% in fiscal 2018. A licensing dispute with Apple and other licensees masked the growth from strong device sales and higher device ASP. Qualcomm estimates that global device sales rose 13% in fiscal 2018 due to 1% growth in unit sales and 11% growth in the ASP.
Qualcomm looks to improve its licensing earnings independent of Apple by entering into 5G licensing agreements. Next, we'll discuss QTL's fiscal 2019 guidance.