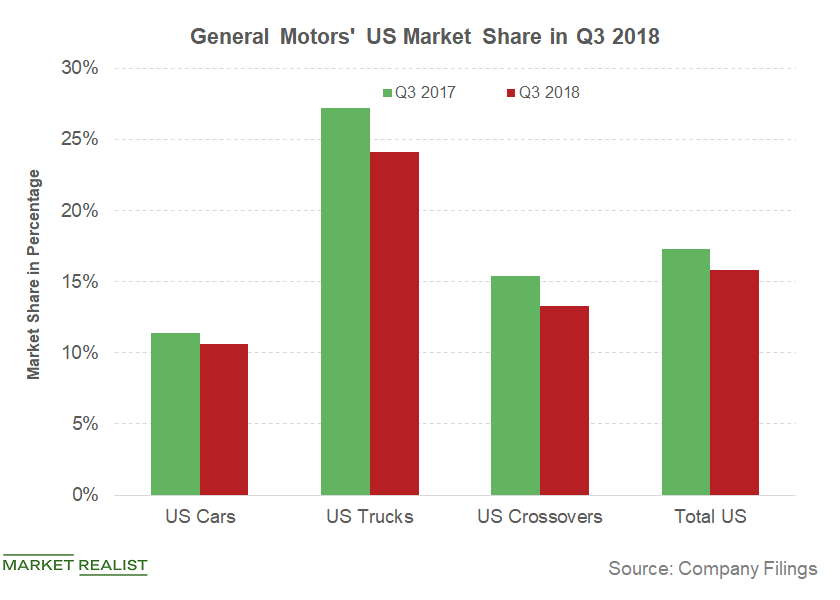 Is GM's Dropping Global Market Share a Concern?
GM's weakening market share
In the third quarter, General Motors' (GM) global market share fell to 8.6% from 10.0% in the third quarter of 2017. Similarly, the company's market share in its participating markets also fell to 10.8% as compared to 11.8% a year ago. Nevertheless, GM maintained the largest market share in the US ahead of Ford Motor Company (F), Toyota (TM), and Fiat Chrysler (FCAU).
Article continues below advertisement
US market share fell in Q3 2018
According to General Motors' own estimates presented in its third-quarter earnings report, its US market share during the quarter was at 15.5%, lower than 17.3% in the third quarter of 2017.
For the last few years, GM has been intentionally cutting its US fleet sales to rental car companies in order to boost its profit margins. However, in the third quarter, its US fleet sales as a percentage of its retail sales rose to 20.5% as compared to 17.4% in the third quarter of 2017.
In 2017, GM was in fourth place on the list of largest automakers by their global vehicle (IYK) sales volume after Renault-Nissan, Volkswagen (VLKAY), and Toyota.
Should investors be concerned?
As noted earlier in this series, trucks and crossovers tend to yield higher margins than smaller cars for auto companies. In the third quarter, GM's US market share in the US truck segment dropped to 24.1% from 27.2% in the third quarter of 2017. The company also registered a decrease in its crossover segment US market share to 13.3% in the third quarter, down from 15.4% in the third quarter of 2017.
While GM's third-quarter profits jumped up due to positive pricing and higher demand for trucks and crossovers, its falling market share in these segments could be worrisome in the long term. The lower market share could reflect how the company is losing its truck and crossover vehicle sales share to its competitors in its home market.
In the next part, we'll take a look at GM Financial Company's third-quarter performance.