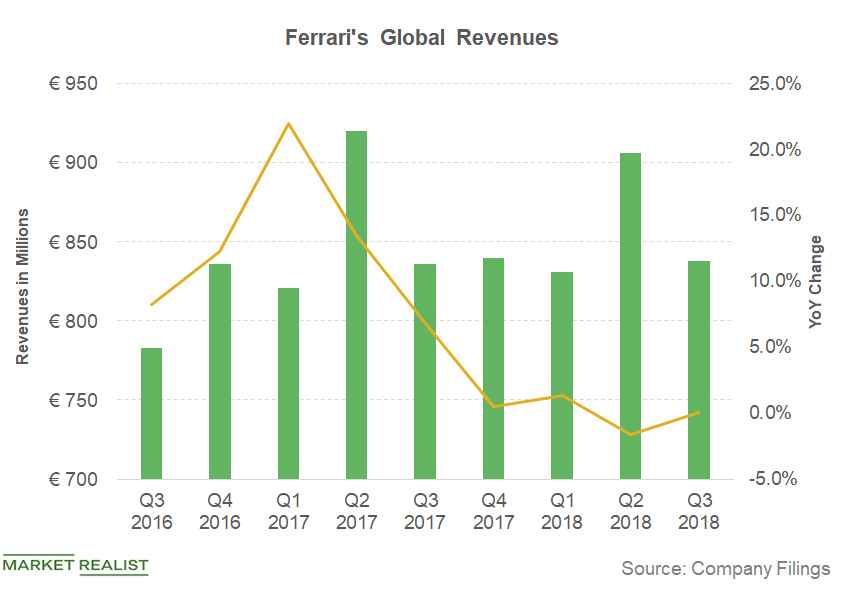 Is Ferrari's Growth in China Enough to Please Investors?
Ferrari's Q3 2018 revenue
In the third quarter, Ferrari (RACE) reported net revenue of 838 million euros, or ~$956 million. The company's revenue rose slightly by ~0.3% from 836 million euros in the third quarter of 2017. During the third quarter, Ferrari's shipments to all its key markets rose on a YoY basis. Globally, the company shipped about 2,262 car units to customers in the third quarter, up 11% as compared to 2,046 units in the third quarter of 2017. Third-quarter shipments were also notably higher from 2,128 and 2,463 units shipped in the first and second quarter of 2018, respectively.
In 2017, Ferrari's revenue went up 10% YoY to 3.41 billion euros, or $4.05 billion.
Article continues below advertisement
Shipments to China, Hong Kong, and Taiwan
In the third quarter, Ferrari shipped 162 car units to China, Hong Kong, and Taiwan markets on a combined basis, which reflected a rise of ~7% in its shipments to the region over 152 car units in the third quarter of 2017. On the negative side, Ferrari's first and second quarter shipments to the region were higher at 183 and 177 units, respectively.
China, Hong Kong, and Taiwan accounted for 7% of the company's total shipments in the third quarter without any change from the third quarter of 2017. In 2018 so far, GTC4Lusso family cars and other V12 engine-based car models, including 812 Superfast car models, had a positive impact on Ferrari's shipment growth in China.
China is the largest automotive market in the world. In the last few years, mainstream automakers (FXD) including General Motors (GM), Ford (F), and Toyota (TM) have also shifted their focus to China due to its huge future growth potential.
Expecting positive growth in China
Ferrari's focus on the world's largest auto market, China, could be critical for its long-term shipment growth prospects. During the company's third-quarter earnings call, Ferrari's CEO, Louis Camilleri, said, "As opposed to most luxury product manufacturers, China, per se, a single-digit for us, and many luxury products and in fact, some car manufacturers, China is obviously huge. It's not for us today, but our hope is of a time that China will be one of our growth platforms."
Continue to the next part to learn how Ferrari performed in the Americas market segment in the third quarter.