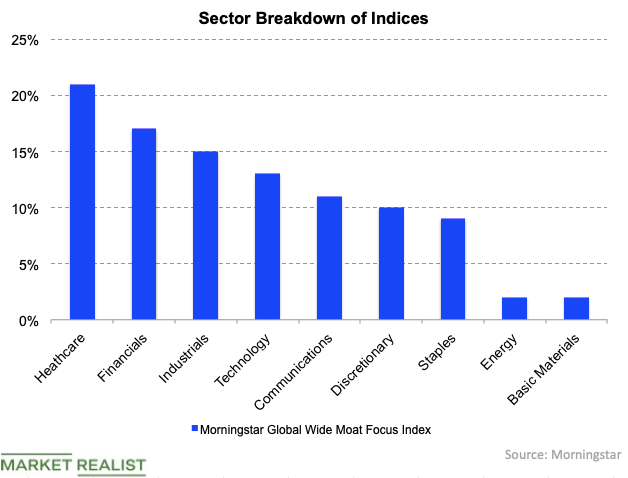 How to Invest in Global Wide Moat Stocks
<p>The Morningstar Global Wide Moat Focus Index has global exposure, unlike the Morningstar International Moat Index (MOTI).</p>
VanEck
Resilience Was More than a Tech Story
The strength displayed by the U.S. Moat Index in October was not only a result of its underweighting to tech stocks. Strong stock selection within the communication services and consumer discretionary sectors provided a significant boost for the U.S. Moat Index, along with an advantageous overweight to consumer staples stocks and underweight to energy and industrials stocks.
Morningstar's focus on attractive valuations is intended to result in underexposure to many of the high flying stocks that often come back to earth when markets as a whole sell off. The moat investing mantra remains: Invest in companies with sustainable competitive advantages at attractive valuations.
Article continues below advertisement
Article continues below advertisement
Now Offering Global Exposure to Morningstar's Moat Investing Philosophy
With the recent launch of the VanEck Vectors Morningstar Global Wide Moat ETF (GOAT), VanEck now offers investors four ways to access Morningstar's forward-looking equity research.
Market Realist
The Morningstar Global Wide Moat Focus Index has global exposure, unlike the Morningstar International Moat Index (MOTI), which has no exposure to US-based stocks. Unlike MOTI, GOAT also gives exposure to only wide moat stocks.
The global wide moat index has 66% exposure to the United States, 30% exposure to other developed markets, and 4% exposure to emerging market stocks. Like the Morningstar US Wide Moat Focus Index, the global wide moat index is also overweight on healthcare stocks. Technology stocks make up 13% of the index, while communications represent 11%. Financials are also well represented in the index.
While the global wide moat index has significant exposure to the United States, it does have some geographical diversification. Express Scripts Holding Company (ESRX), Pfizer (PFE), McDonald's (MCD), and 21st Century Fox (FOX) are the index's top four holdings. It also has exposure to tech giants Microsoft (MSFT), Facebook (FB), Intel (INTC), and Tencent (TCEHY).