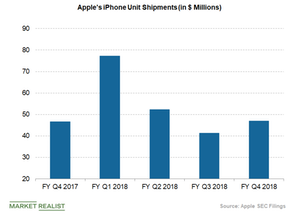 How Sluggish Demand for iPhones Is Hurting Apple's Revenue
Apple's iPhones
In the fourth quarter of fiscal 2018, Apple's (AAPL) iPhone sales rose 29% YoY (year-over-year) to $37.2 billion. Though the company's iPhone unit shipments of 46.9 million in the quarter failed to meet analysts' consensus expectation of 47.5 million units, iPhone sales rose on the back of higher average selling prices. The iPhone's average price was $793 in the quarter, up 28% YoY and higher than analysts' estimate of $750.78.
However, the company is witnessing sluggish demand for its three newest models and has thus slashed its production orders. President Donald Trump's proposed 10% tariff on iPhones could also raise the cost of the products, further weakening demand.
Article continues below advertisement
Falling demand for the new iPhone models
Apple foresees uncertainties related to the demand and supply of its iPhones, which contribute significantly to its revenue. Therefore, the company has ordered its suppliers to cut down on the production of its newest iPhone models.
In the last week of the fourth quarter of fiscal 2018, the company unveiled its premium iPhone models: the iPhone XS, iPhone XS Max, and iPhone XR. Though total iPhone revenue rose YoY in the quarter, iPhone unit shipments were almost flat at 46.9 million in the quarter compared to the previous year's quarter. The iPhone XS's and XS Max's sales were also not as strong as expected in the quarter.
Then, on November 19, the company reportedly slashed production orders for all three of its new iPhone models amid weak demand. Two of Apple's suppliers, Qorvo (QRVO) and Lumentum (LITE), also lowered their guidances due to softness in iPhone-related orders.
Reports about sluggish iPhone demand and production cuts not only dented Apple stock but also pressured chip stocks with exposure to Apple's iPhone business, such as Micron Technology (MU) and Western Digital (WDC). Reportedly, lower-than-expected demand for iPhones could lower iPhone memory chip sales, which could reduce the profits of Micron and Western Digital over the next two quarters.