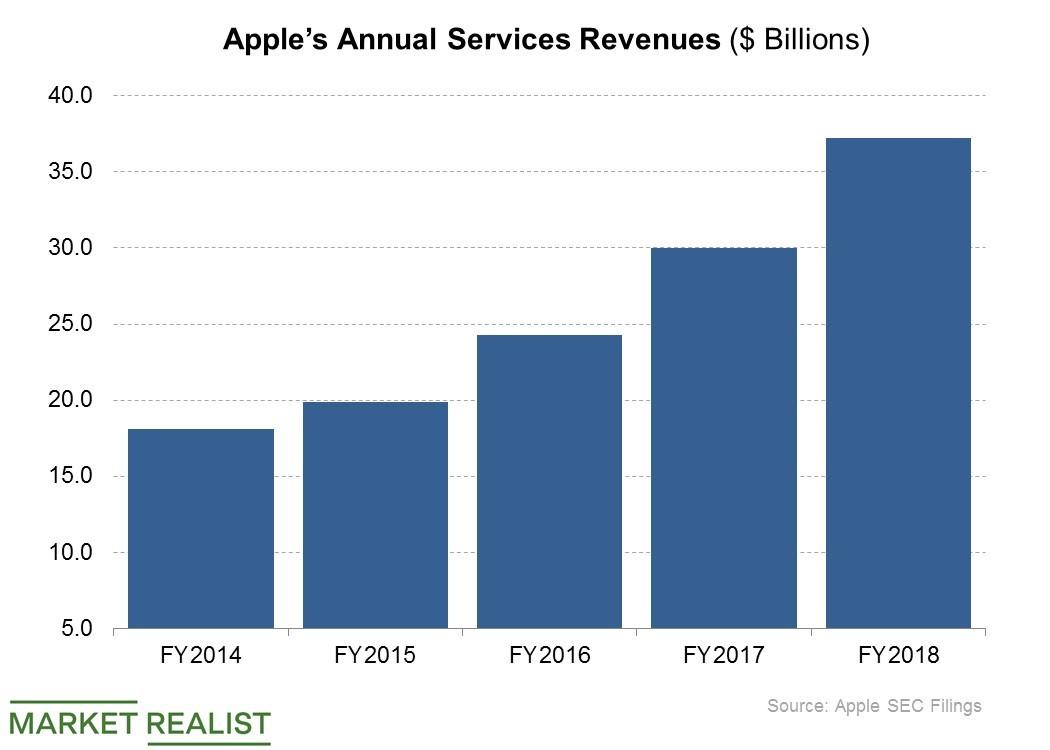 Apple Is on Track to Hit Its 2020 Services Revenue Goal
Services revenue up 27%
Apple (AAPL) is working toward its goal of doubling its 2016 Services revenue by 2020. The company generated Services revenue of $24.3 billion in 2016, and it's aiming to grow that to at least $48.6 billion by the end of 2020. In its fiscal 2018, which ended in September, Apple generated $37.2 billion worth of Services revenue, bringing it closer to its revenue target.
The company said the period that ended in September was the best quarter ever for its Services business, with revenue from the business jumping 27% year-over-year to $10 billion in the quarter.
Article continues below advertisement
Apple pursuing advertising dollars
Apple's Services division consists of various operations, Apple Music, and the App Store. Apple charges customers between $10 and $15 per month for Apple Music depending on whether they are on individual or family accounts. Spotify (SPOT) and Pandora (P) charge similar rates for their music services, but they also offer free plans that they monetize through advertising. Most Spotify and Pandora customers are on free, ad-supported plans.
With the App Store, Apple has more than one way to make money. In addition to taking a cut of sales made through the App Store, Apple also charges developers to run ads in the App Store, making it one of the companies that's vying for digital ad spending. Facebook (FB) and Google (GOOGL) are currently huge in this area, with eMarketer forecasting that they'll capture 20.6% and 37.1% of all digital ad spending in the United States, respectively, in 2018.
Spending on digital ads in the United States totaled $90.4 billion in 2017 and is expected to grow to $107.3 billion in 2018, according to eMarketer.
Monetizing its installed base
Selling services such as online music subscriptions is one way in which Apple is monetizing its installed base. As of January, there were more than 1.3 billion Apple devices in active use globally. The company has said that its installed base is expanding at a double-digit rate.