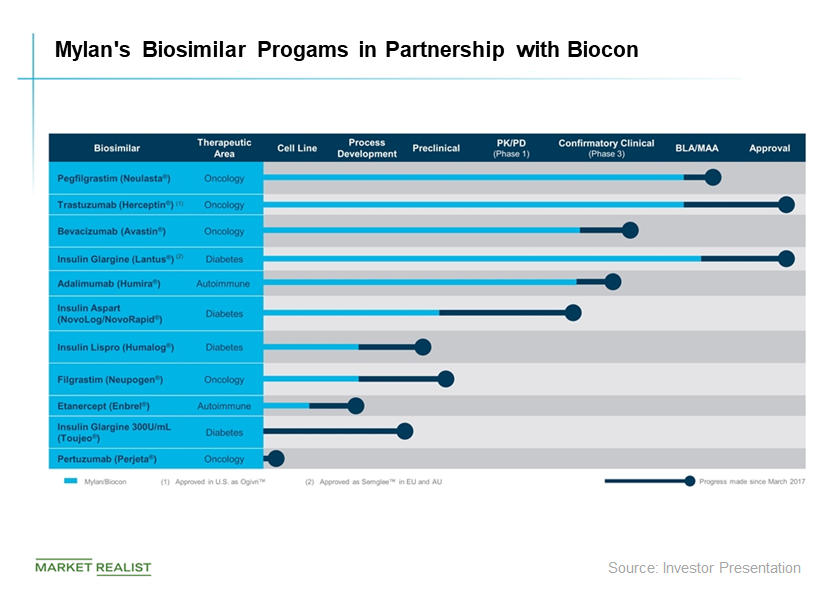 Wall Street Looks at Sales Forecasts for Mylan's Fulphila
Fulphila's commercialization rights
Mylan (MYL) develops Fulphila, its biosimilar version of Amgen's (AMGN) Neulasta, in partnership with Biocon. Biocon and Mylan have a partnership for the development of 11 biologic and insulin products, as listed in the chart below.
Mylan has exclusive commercialization rights for Fulphila in the United States, Canada, Australia, New Zealand, Japan, the European Union, and the EFTA (European Free Trade Association) countries. In the rest of the world, Mylan and Biocon have co-exclusive commercialization rights for Fulphila.
Amgen's Neulasta had generated sales of $4.2 billion during fiscal 2017[1. fiscal 2017 ended March 31, 2018] and $2.3 billion in the first half of fiscal 2018. According to IQVIA, sales of Neulasta in Europe exceeded $450.0 million during the 12 months ended June 30.
Article continues below advertisement
Sales estimates for Fulphila
According to Leerink analyst Amy Fadia, Fulphila is expected to generate sales of $73.0 million in 2018. Fadia expects Fulphila's sales to reach $260.0 million in 2019. The drug is expected to add $0.03 to Mylan's 2018 EPS and $0.10 to its 2019 EPS.
However, J.P. Morgan provided more conservative estimates of Fulphila sales at $43.0 million for 2018 and $125.0 million for 2019. According to Mizuho Securities, the drug is expected to register peak sales of $554.0 million by 2022. The firm expects $150.0 million in Fulphila sales in 2019 and $300.0 million in 2020.
In the next article, we'll discuss Mylan's recent launch of the generic version of Acorda's Ampyra.
Check out all the data we've added to our quote pages. Now you can get a valuation snapshot, earnings and revenue estimates, and historical data, as well as dividend information. Take a look!