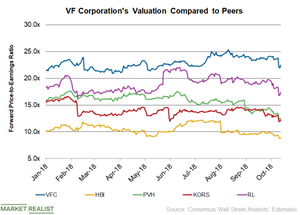 How VFC's Valuation Compares with Peers
Forward PE ratios
On October 12, VF Corporation's (VFC) 12-month forward PE (price-to-earnings) ratio was 22.4x. Hanesbrands (HBI), PVH Corp. (PVH), Michael Kors (KORS), and Ralph Lauren (RL) have PE ratios of 8.8x, 12.6x, 12.2x, and 17.4x, respectively.
Article continues below advertisement
Article continues below advertisement
Growth projections
Wall Street analysts project VFC's revenue to increase by 11.0% to $13.7 billion in fiscal 2019 and its adjusted EPS to increase by 15.9% to $3.65.
VF is making several investments in enhancing its international operations and D2C (direct-to-customer) businesses. Acquisitions and inherent strength in brands like Vans and The North Face continue to drive the top line. For Vans, VFC expects revenue to surpass the $5 billion mark by 2023. However, the company has sold Reef and Nautica brands as part of portfolio reorganization. Nonetheless, rising costs continue to be a concern.
Projections for peers' top and bottom lines
In fiscal 2019, analysts expect Michael Kors' sales to rise by 8.9% to $5.1 billion and its EPS to grow 11.4% to $5.03. During the same period, analysts expect Ralph Lauren's top line to decrease marginally to $6.2 billion and its EPS to grow by 10.6% to $6.67. In fiscal 2018, analysts expect Hanesbrands' revenue to increase by 4.6% to $6.8 billion in 2018 and its adjusted EPS to decline by 9.4% to $1.75. Analysts expect PVH's top line to increase by 7.6% to $9.6 billion in fiscal 2018 and its adjusted EPS to rise by 16.8% to $9.28.
A look at dividend yields
Despite extensive investments, VF Corp is committed to paying dividends to its stockholders. The company's annualized dividend stands at $1.84. VF's dividend yield was 2.1% based on its October 12 closing price of $87.43. The dividend yields of Hanesbrands, PVH Corp, and Ralph Lauren stood at 3.7%, 0.1%, and 2.1%, respectively, on October 12. Michael Kors doesn't pay dividends.