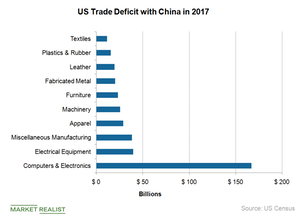 The US–China Trade War Impacts Apple
Apple struck by the US-China trade war 
Apple (AAPL) is adding more Asian suppliers to strengthen its negotiating power with suppliers. As we discussed in the previous article, it recently replaced some of its Taiwanese (EWT) suppliers with Chinese (FXI) suppliers to reduce production costs. However, several Apple products are exposed to President Trump's proposed 25.0% tariffs on $200.0 billion worth of Chinese imports.
These tariffs are a part of the trade war triggered by the United States to balance its trade deficit with China and encourage US-based companies to bring production back from overseas.
Article continues below advertisement
In a September 5 letter to Robert Lighthizer, the United States Trade Representative, Apple CEO Tim Cook stated that the proposed tariffs would increase the prices of a wide range of Apple products such as Apple Watch, AirPods, Mac mini, and adapters and chargers for several products. Cook didn't list iPhones in the products impacted by the tariffs, and he didn't state the exact impact of the proposed tariffs on Apple's costs.
In a response to Apple's letter, Trump tweeted a suggestion that the iPhone maker move its production back to the United States. With this move, Apple would get relief from tariffs and also benefit from tax incentives. This suggestion saw the stock prices of Apple's Chinese suppliers fall significantly.
Apple unlikely to move production to the US 
However, Apple is unlikely to move its production to the United States, as the high labor costs are expected to more than offset the benefits from tax incentives and relief from import tariffs. According to a wccftech article, a study by Bank of America Merrill Lynch noted that US labor is 2.6 times more expensive than Chinese labor, which could increase Apple's product prices by 20.0%.
Higher prices would negatively impact demand without adding to Apple's profit margins. So, Apple is expected to continue to outsource production to Asia.
Next, we'll look at other tariffs challenges that Apple could face.
Check out all the data we have added to our quote pages. Now you can get a valuation snapshot, earnings and revenue estimates, and historical data as well as dividend info. Take a look!