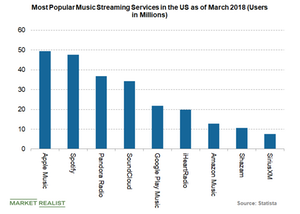 How Shazam Acquisition Could Benefit Apple
Apple receives EU approval for Shazam acquisition
Apple (AAPL) finally received the green light from regulators in the European Union last week to acquire UK-based music recognition app Shazam Entertainment. The deal was announced in December 2017 for an estimated $400 million.
The approval from European regulators came after seven countries raised concerns that the deal might negatively impact competition in the European Economic Area. The deal was investigated by the European Commission, which has been closely scrutinizing deals involving companies that use a lot of user data for operations.
Article continues below advertisement
Article continues below advertisement
Apple to boost its AR strategy with Shazam
Shazam is a popular music and image recognition app that can identify and provide details about any song, TV show, movie, or advertisement from its vast database. It was one of the first applications to be offered by the Apple App Store in 2008, though it can also be used on Android as well. The Shazam app already works with Apple's digital assistant Siri and music provider Spotify (SPOT). Snap's (SNAP) popular app Snapchat has also collaborated with Shazam, so Snapchat users can engage with Shazam content and send their music as Snaps to their friends.
The acquisition of Shazam is expected to boost the experience of Apple Music users and let them play songs on its platform. It could also allow users to buy music directly via iTunes. The acquisition could also benefit Apple with Shazam's increasing push into augmented reality (or AR) technology.
As of March 2018, around 10.6 million monthly users have downloaded the Shazam app, according to Statista. Apple Music, which was launched in 2014, is the most popular music streaming service with 49.5 million users, followed by Spotify, which has 47.7 million monthly users. Alphabet's (GOOGL) Google Play Music and Amazon's (AMZN) Amazon Music with 21.9 million and 12.7 million monthly users, respectively, are also gaining popularity and are used across multiple platforms.