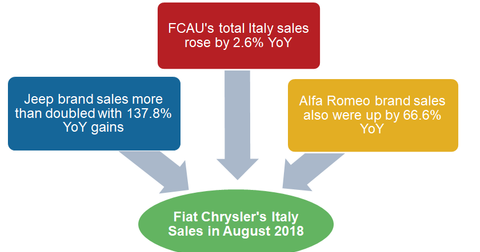 Fiat Chrysler's Italy Sales Continued to Rise in August 2018
By Jitendra Parashar

Updated
Fiat Chrysler's Italy sales
In August 2018, Italian-American automaker Fiat Chrysler's (FCAU) total Italy market sales were at ~24,700 vehicles units, a rise of ~2.6% YoY (year-over-year) but a massive sequential fall of 41%. By comparison, FCAU's US market sales rose 10% YoY (year-over-year) to 193,718 vehicles in August. This was the fifth month in a row that the company's total US sales witnessed positive YoY growth. Now, let's take a closer look at some key highlights from Fiat's home market sales.
Fiat Chrysler Automobiles was formed in 2014 after the merger of American auto giant Chrysler and Italian auto company Fiat. The Italian-American company was listed on the NYSE on October 13, 2014.
Article continues below advertisement
August update: brand-wise sales
FCAU's Jeep brand vehicle sales jumped up by 137.8% YoY to nearly 5,700 units. In the first eight months of 2018, Jeep's sales in the region rose 104% YoY to about 61,000 units. Similarly, Italy sales of FCAU's luxury car brand Alfa Romeo went up by 66.6% YoY to more than 3,600 car units in August 2018. Alfa Romeo's Stelvio and Giulia continued to generate strong demand in Italy last month.
Note that FCAU's profit margins fell in the second quarter of 2018 after rising on a YoY basis for the past eight quarters. FCAU's profit margins are still lower than its peers (IYK) such as Ford (F), General Motors (GM), and Toyota (TM). FCAU's higher operations costs and worse manufacturing efficiencies are two of the key reasons for its lower profit margins. This is the reason why the company has been striving to improve its manufacturing efficiencies lately.
In Q3 2018 so far, stocks of Ford, GM, TM, and FCAU have fallen by 14.4%, 16.3%, 3.4%, and 2.8%, respectively.
Next, we'll see how Ford's August 2018 sales were in Europe.