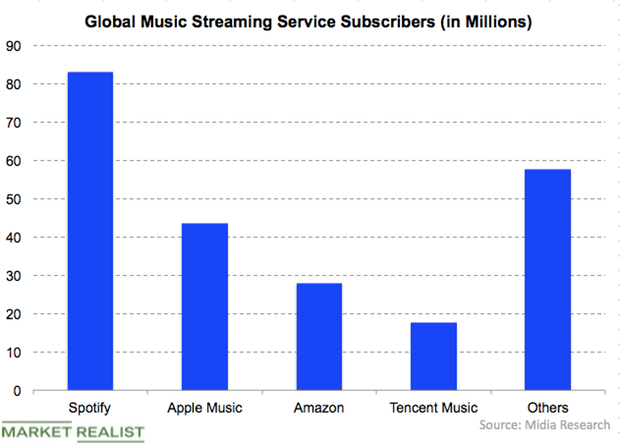 Apple Music Gained Market Share in the First Half of 2018
Apple Music and Spotify continue to see growth
Music streaming service providers Spotify (SPOT) and Apple Music (AAPL) continue to gain subscribers.
According to recent research by MIDiA Research, the number of global music streaming service subscribers increased 15.5% during the first six months of 2018 to reach 229.5 million. On a YoY (year-over-year) basis, that number grew 38%.
According to the research, Spotify maintained its top spot with a market share of 36% worldwide, maintaining its market share from the fourth quarter of 2017. The research company noted that Spotify had added 11.9 million subscribers during the first half of the year to reach 83 million.
Meanwhile, Spotify's biggest rival, Apple Music, had 43.5 million subscribers by the end of June. As of June, Apple Music's market share had increased by two percentage points since the end of December 2017 to 19%.
Article continues below advertisement
Article continues below advertisement
Spotify is looking to tap developing markets
Apple Music is expected to beat Spotify in terms of subscribers in the United States soon. However, globally, Spotify remains far ahead of Apple Music. However, the latter is gaining on the Swedish company.
Meanwhile, Amazon (AMZN) Music has solidified its third-place position in the music streaming market with a share of 12%.
Spotify is looking to expand its service to developing markets. The company is reportedly looking to launch its service in the Middle East and North Africa.
Spotify claimed that it had 83 million subscribers at the end of the second quarter. Nearly 59 million of those subscribers were in North America and Europe.