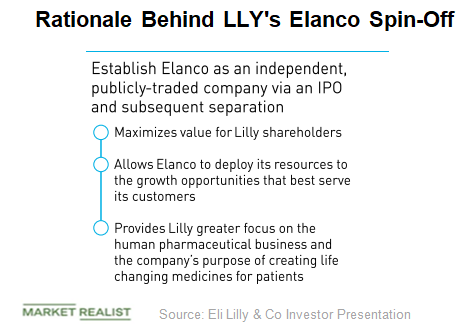 A Look at Eli Lilly's Elanco Spin-Off
Elanco
In July, Eli Lilly & Co. (LLY) completed the strategic review of its animal health business, Elanco, and announced that it would file for an IPO of a minority stake in Elanco as a separate entity. The IPO was priced at $24.00 per share.
Elanco stock was listed at $32.25 on September 20. Elanco raised $1.5 billion from this offering. On September 21, Elanco (ELAN) stock closed at $34.10.
Elanco provides products and services in animal health and food-animal production in more than 70 countries. The business caters to the beef, swine, dairy, poultry, swine, and aquaculture markets.
Article continues below advertisement
Eli Lilly expects to continue consolidating Elanco's results in its statements. Eli Lilly plans to divest the remainder of its ownership in Elanco through a different transaction, which is expected to be tax efficient. This spin-off is expected to allow Eli Lilly to maximize its focus on human pharmaceuticals.
Business segments
Eli Lilly's (LLY) business segments comprise Endocrinology, Oncology, Cardiovascular, Neuroscience, and Animal Health. Eli Lilly generated total product revenues of $6.36 billion in the second quarter, compared with $5.82 billion in the second quarter of 2017.
Eli Lilly is expected to post revenues of $24.33 billion in fiscal 2018 and $24.8 billion in fiscal 2019. In fiscal 2017, Eli Lilly generated total revenues of $22.87 billion.
We'll take a look at Eli Lilly's financials and valuations in the next part.