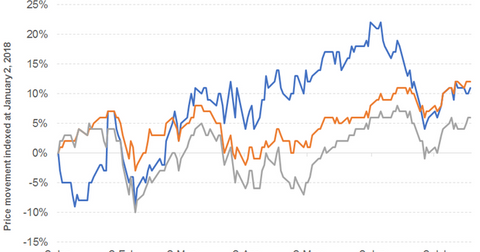 What Are the Significant Events Driving Intel's Stock Price?
By Amanda Lawrence

Updated
Significant events driving Intel's stock price
In the previous part of the series, we discussed the potential impact of US tariffs on Intel in the future. In this article, we'll discuss some of the other non-tariff reasons behind Intel's stock price movement.
Intel (INTC) stock had beaten the NASDAQ Composite and the semiconductor industry indexes most of the time between April and June. However, it lost significant value toward the end of June and was followed by some recovery.
Article continues below advertisement
Termination of a long partnership
On January 8, Intel and Micron Technology (MU) announced the termination of their 12-year flash memory partnership in 2019. Both companies preferred to focus on their respective data-centric and NAND technology businesses.
April 26: Q1 2018 results and postponement of chip production
Intel's EPS grew 32.0% in the first quarter, driven by 13.0% revenue growth and higher margins. Intel's data-centric business grew 25.0%. The company's earnings estimates have been beaten only once in the last 20 quarters, while the company has beaten every revenue estimate in the last 20 quarters.
The company also announced the postponement of volume production under its 10nm (nanometer) chip manufacturing process to 2019. Advanced Micro Devices (AMD), on the other hand, disclosed its intention to commence its 7nm chip production by the end of 2018.
Article continues below advertisement
The exit of the CEO on June 21
CEO Brian M. Krzanich resigned on June 21. He had pioneered the data-centric transformation of the company.