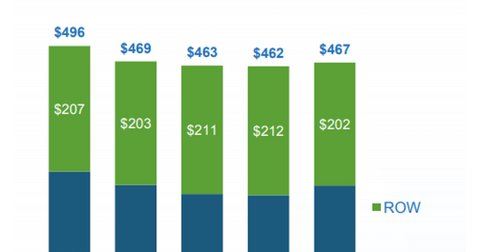 Tecfidera and Tysabri Still Driving Biogen's Revenue Growth
By Margaret Patrick

Updated
Tecfidera's growth trends
Biogen expects to witness robust demand trends for Tecfidera in ex-US markets in 2018. But it anticipates pricing pressures in European markets.
In Q2 2018, Biogen's Tecfidera reported revenues of ~$1.1 billion, a decline of 2% YoY (year-over-year) but a rise of 10% sequentially. The drug saw sales of $826 million in the US market, which is a decline of 6% YoY but a rise of 13% sequentially. Tecfidera also reported revenues of ~$261 million from the ROW (rest of world) markets, which is a rise of 11% YoY and a rise of 1% sequentially.
Article continues below advertisement
The decline in Tecfidera revenues was mainly due to an inventory drawdown of $35 million in Q2 2018 and $80 million in Q1 2018. The timing of the market launch of Roche Holdings' (RHHBY) Ocrevus also had an unfavorable impact on the drug's YoY comparisons. Excluding these factors, Tecfida's performance has been stabilizing in the US market. The drug is currently the highest prescribed oral multiple sclerosis therapy in the world and is seeing solid demand trends in all large European markets. At the end of Q1 2018, Tecfidera also accounted for 25% of the market share in Japan.
The above diagram shows the revenue trend for Tysabri, which is the leading MS drug noted for its high efficacy around the world.
Tysabri's growth trends
Despite the launch of Ocrevus, Biogen has continued to see stable demand for Tysabri in terms of new prescriptions and total prescriptions in the United States. In Q2 2018, it also had a rapid uptake in all European markets as well as a double-digit rise in emerging markets.
Biogen has already communicated the relationship between extending intervals between Tysabri doses and the reduced risk of PML (progressive multifocal leukoencephalopathy). But it's planning to initiate a global study to evaluate the efficacy of these extended dosage regimens by the end of 2018.
Next, let's look at the growth prospects for Biogen's Spinraza.